Mono Lake Committee Outdoor Experiences Manager Santiago Escruceria gives everyone a nickname. Beyer High School senior Tom Rydquist's was "Mr. Muffin."
In December 2011 the California Museum and Comcast announced that Rydquist won the Northern California Grand Prize in their Dreamers Challenge for a video he produced. His video "Funding the American Dream: Helping California Lead the Way in Water Reclamation"  suggests a fee on sewage utilities to create water recycling programs. You can see the video here and read the script here.
Along with fellow Beyer students from Modesto and their teacher Kay Myers, Mr. Muffin came to Mono Lake to participate in the Committee's Outdoor Experiences program in the fall of 2011. For the past 12 years Myers has brought her students to Mono Lake for hands-on watershed education. As part of a program called Global Lab, the students conduct in-depth water quality monitoring in Yosemite and the Mono Basin on their trip.
During their visit in 2011 Myers' students pulled invasive plant species as part of a stewardship project and met with Mono Lake Committee Defense Trust members to talk about the water quality monitoring they conduct. Their knowledge of water quality monitoring was impressive, as was the fact that they raised the money for the entire trip by recycling glass, plastic, and aluminum in their community.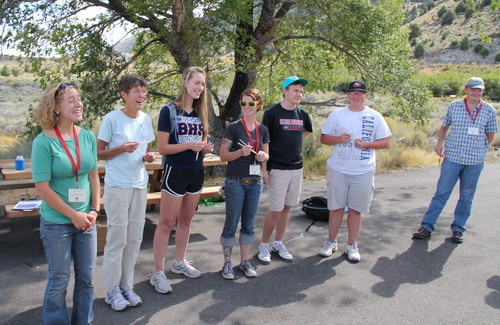 "The OE program gives students a chance to learn about watersheds in a way that fosters both an understanding of and an appreciation for the source of their water. I was so proud to see Tom use what he learned at Mono Lake to come up with a creative solution for one of California's major water issues," Santiago said.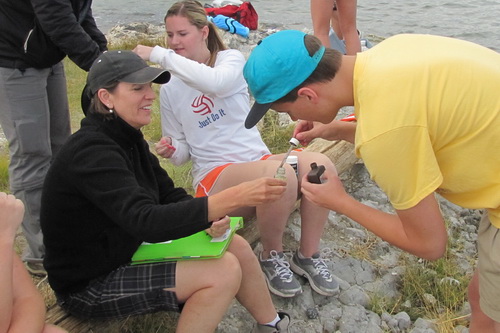 The story behind the nickname? "He's Tom, Thomas, like the English muffin. Next thing you know he's 'Mr. Muffin,'" Santiago explained. Creating a sense of community and a fun atmosphere of learning is an important aspect of the OE program.
The goal of the Outdoor Experiences program is to educate the water leaders of tomorrow. The Mono Lake Committee congratulates Mr. Muffin on his film's success, and wishes him the best.