Last night in North Hollywood, Santiago Escruceria, the Mono Lake Committee's Outdoor Education Center Manager, was honored with the Environmental Justice Leader Award from Pacoima Beautiful.
Pacoima Beautiful is a grassroots environmental justice organization that works in the San Fernando Valley to advocate for equity, organize youth, improve land use, and uplift the arts and culture of the community. Pacoima Beautiful has traveled the extended Los Angeles watershed to bring groups of young people to the Mono Basin Outdoor Education Center (OEC) for many years. At the OEC Santiago has helped participants gain an understanding of Mono Lake and become inspired to act for a sustainable water future. At the same time, we at the Mono Lake Committee have gained an understanding of the meaningful work participants do at home to lift up their community.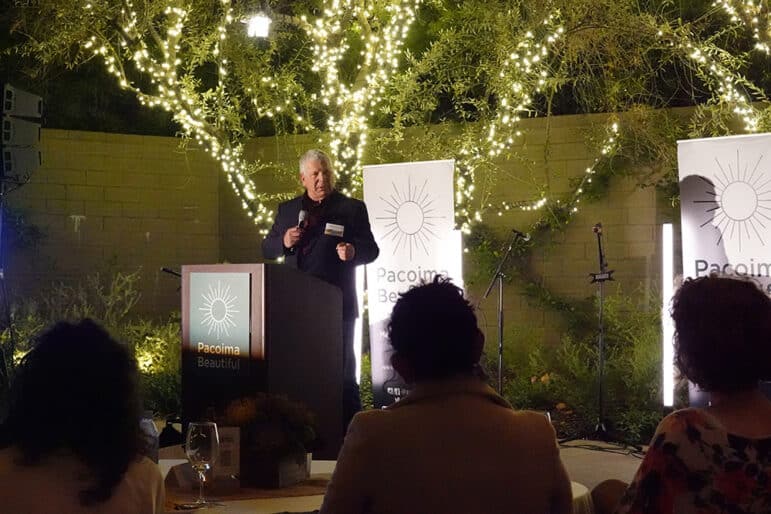 In the letter informing Santiago of his award, Pacoima Beautiful's Executive Director, Veronica Padilla, wrote, "We wish to acknowledge your outstanding leadership, knowledge and love that you have demonstrated to our Pacoima Beautiful youth and so many other visitors to Mono Lake. We value your relentless support and care for our natural wonders and sharing that passion with us."
Santiago has taught environmental education at the Committee for 24 years, introducing thousands of students to the Mono Basin, sharing the history of the Los Angeles Aqueduct, discussing issues of equity and community, and helping participants see Mono Lake as part of their home. His award came at the suggestion of Pacoima Beautiful youth program participants, and he was introduced by students Yasmin Ramirez and Luis Orozco.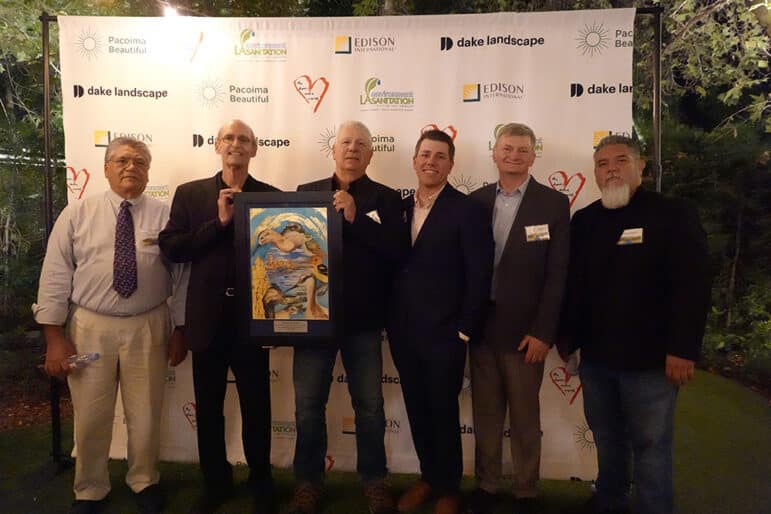 Committee staff members Ryan Garrett, Herley Jim Bowling, and I were honored to be in attendance. Joining us were Committee Board member Martha Davis and numerous key program partners with long LA-Mono Lake partnership connections, including advocate mark! Lopez, educator Ron Ozuna, organizer Roberto Cabrales, and Chicano studies professor Gabriel Gutierrez.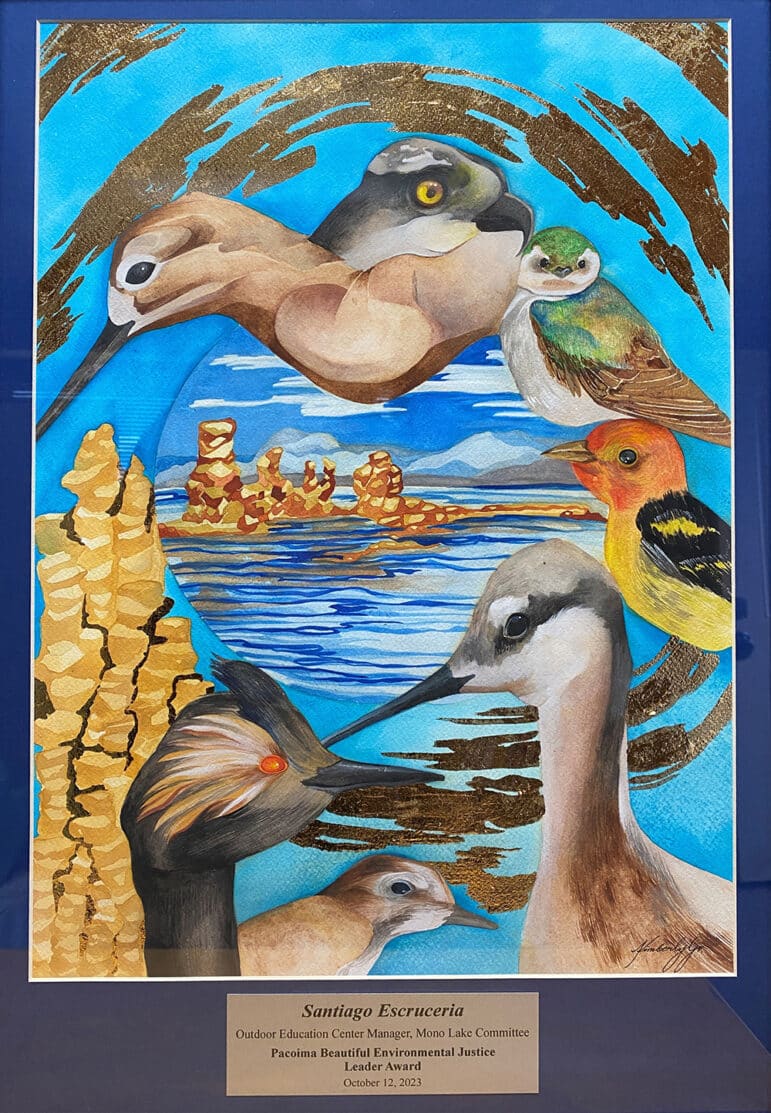 Other honorees at the ceremony were US Senator Alex Padilla, Rudy Ortega, Jr., Tribal President of the Fernandeño Tataviam Band of Mission Indians, and the organization Trust for Public Land. The Environmental Justice Awards "aim to recognize outstanding individuals and organizations who are making significant contributions to the field of environmental justice."
Each award features inspiring, personalized artwork by Pacoima artist Kimberly Guzman. Kimberly's eye-catching award for Santiago features phalaropes, grebes, avocets, tufa, and more, all inspired by Kimberley's own trip to Mono Lake with Pacoima Beautiful, Santiago, and the OEC.
Santiago spoke eloquently at the event about the privilege of having so many program participants share their lives with him, about the value of a shared watershed vision, and about the importance of local water supplies and water solutions that will ensure that Pacoima, Los Angeles, and Mono Lake all thrive. As Santiago said, "we are all responsible for building a sustainable future together."
Top photo by Geoff McQuilkin.