This post was written by Julia Runcie, 2011 Mono Lake Intern.
On Thursday, July 14, a group of employees from Patagonia's Reno outlet visited us in the Mono Basin. In the morning we treated our visitors to a canoe tour on the lake. The weather was beautiful and we saw hundreds of gulls and phalaropes and trillions of brine shrimp.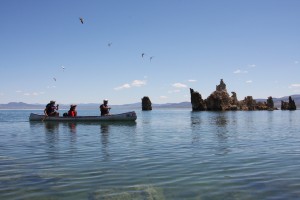 In the afternoon we headed down to Old Marina, where the Patagonia team put in an hour's work pulling invasive sweet clover. This exotic weed is a particularly problematic invader as its long taproot enables it to reach deep down for water and out-compete native plants like willow and sagebrush. Sweet clover has colonized large sections of the lake shore and is very difficult to remove, so we were grateful for all the help. Thank you, Patagonia!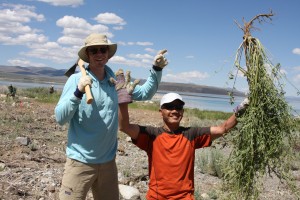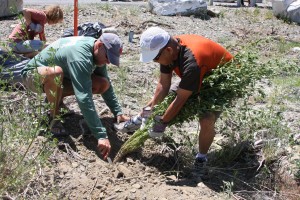 If you'd like to join in the fun, there will be many more opportunities this summer to help the Mono Lake Committee with on-the-ground restoration. Every Wednesday at 10:00am we'll give a short presentation on the Forest Service Visitor Center patio, followed by an excursion into the field to pull weeds or water Jeffrey pine saplings. Contact Julia or Mila for more information.