After months of community collaboration, planning, and work on the ground, water is once again flowing to the DeChambeau Ponds. Long cut off from inflow by broken-down infrastructure, the restoration of flowing water will benefit waterfowl and wildlife in the entire DeChambeau Ponds complex.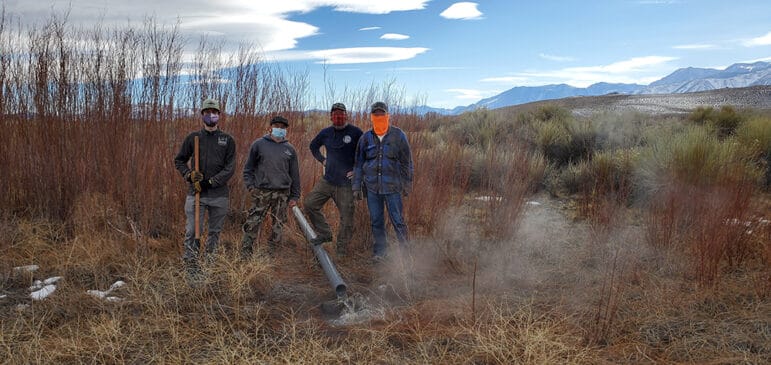 Community members, the DeChambeau Creek Foundation (DCF), Mono Lake Committee (MLC), Inyo National Forest, and Mono County staff labored to install 1,700 feet of new, specialized pipe designed to carry the hot mineral water that flows from a century-old artesian source near the ponds. The old pipeline consisted of ABS pipe and though it functioned for two decades, it was not rated for thermal mineral water. Mounting leaks and breaks riddled the old pipe until it collapsed in multiple locations. The northernmost pond (pond #1) stopped receiving artesian water in 2009; it had been dry until the new pipeline was connected last Thursday and began delivering water to it. The new pipeline also began delivering water to pond #3, further to the south, the same day. Pond #3 did not dry up completely but has languished from the reduction of artesian hot water.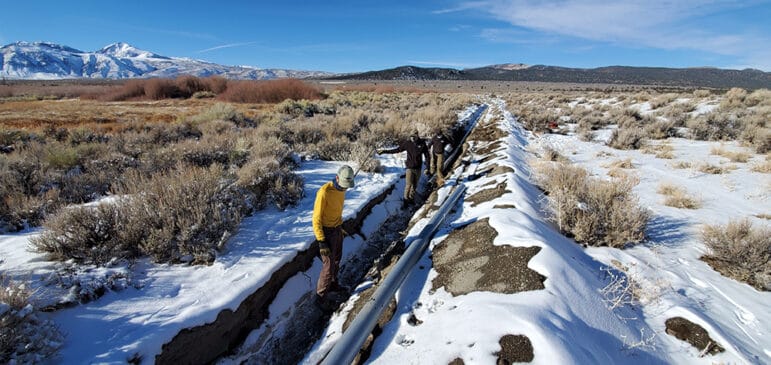 The DeChambeau Ponds are managed by the Inyo National Forest, and Mammoth & Mono Lake District Ranger Gordon Martin approved the work on the ground. Inyo National Forest Volunteer Coordinator Martha Cruz quickly and efficiently organized the necessary paperwork. Funding to purchase the specialized pipe was provided by DCF, MLC, the Bannerman Foundation, and Lee Vining resident Chris Lizza. Specialized equipment was provided by Tim Banta and Wayne and Brad Beaver. The Beaver family (Margie, Wayne, and Brad), Tim and Bill Banta, DCF and MLC staff, Inyo National Forest Wildlife Biologist Thomas Torres, Mono County's Matt Paruolo, and Friends of the Inyo all pitched in to get water flowing to the ponds once again. Special thanks to the DeChambeau Creek Foundation for playing a key role in getting the pipe purchased, coordinating volunteer labor, and logistics.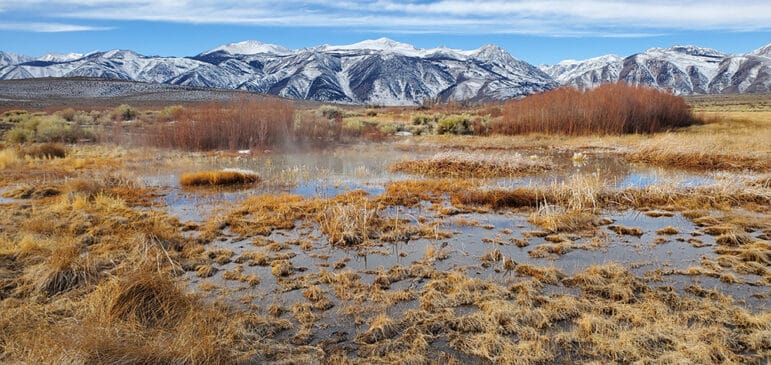 The pipeline replacement project is a solution-oriented collaboration between residents, non-profits, Mono County, and the Inyo National Forest with the goal of restoring waterfowl and wildlife habitat in the Mono Basin. The work at DeChambeau Ponds continues—additional pipe replacement, valve work, monitoring, and inter-pond water conveyance upgrades are planned. The Mono Lake Committee will continue to support further improvements to the DeChambeau Ponds infrastructure and habitat.
Top photo by Bartshe Miller.