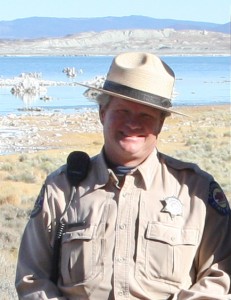 The Mono Lake community grieves with the passing of Ranger Jim Pence. While at home on September 27, Jim died of heart attack. He was 49 years of age. Jim had recently retired in May as a California State Park Ranger after thirty years of service.  He had served as a ranger for the Mono Lake Tufa State Natural Reserve since 2006.
Mono Lake Committee staff remember Jim for his constant smile and service on behalf of Mono Lake and the State Reserve. Over the years we frequently saw Jim in the field around Mono Lake, and he would often swing by all the popular Mono Lake sites while on patrol to see how things were going. He loved to talk to people and share the wonders of this special place. He was often standing with a visitor chatting, laughing, or listening intently. You could count on Jim for three things: a smile, a cheerful greeting, and an offer to help out in any way he could.
During Jim's first year as a ranger at Mono Lake, he swam 200 yards through the salty water to rescue a flailing Osprey chick that had discovered the waters of Mono Lake before it discovered flight. Jim had been off-duty that evening but he never hesitated to do what needed to be done when it was needed.
Mono Lake can be a difficult and isolated place for State Park rangers to stay the course, but Jim settled in and made the Mono Basin his home. He was dedicated to Mono Lake and he maintained a much-needed and positive presence despite declining budgets, declining State Parks staff levels, and the threatened closures of the State Reserve. Making difficult decisions and taking action on behalf of visitors and the State Reserve is not always easy, and Jim often had to do this alone, with the nearest backup ranger in Bodie. Still, Jim remained upbeat. When you ran across Jim in the field, he left you with a lingering tendency to look up. Like the mountains around him he lived his life at a certain altitude, and you were always welcome to join him.