As you walk down the Lee Vining Creek Trail, you notice black cottonwood trees on the hillside, fed by the Lee Vining Public Utilities District percolation ponds uphill. Many of these trees are dying and falling over, victims of old age and the three driest consecutive years on record, making formerly shady areas of the trail a bit sunnier, as this hillside naturally would be.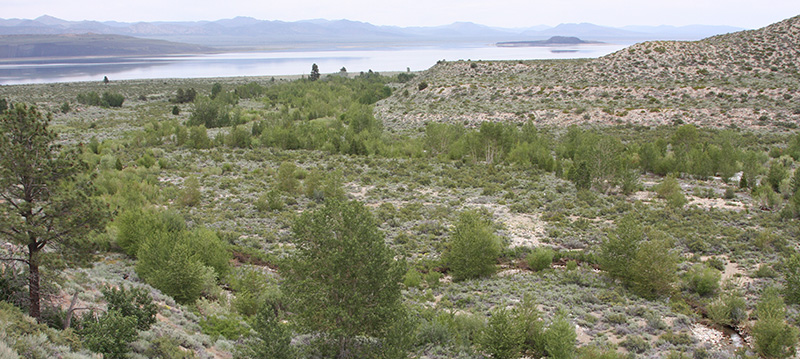 As you walk along the creek at the bottom of the hill, you notice many young black cottonwood trees sprouting and growing. A dry channel is filling with leaves under the shady new forest canopy. Releasing flows that mimic the natural peak flow has done wonders for cottonwood regeneration on Lee Vining Creek, and the riparian forest is slowly expanding, making formerly sunny areas of the trail a bit shadier, as the bottomlands naturally would be.
Over the last two decades, I've gotten used to a shady hillside and a sunny bottomlands. But this is now reversing, and over the next two decades, visitors will experience the opposite, more natural situation: a sunny hillside and a shady bottomlands. Rush Creek is next in line—it will get more natural flows after the new Grant Lake Reservoir outlet is built in about four years. But the beavers along Rush Creek aren't waiting around, and are building their own infrastructure that is influencing the habitat. Join me on Sunday, July 20th to see what else is changing along Mono Lake's tributaries, as we explore Mono Basin Streams: Flow, Fish, Forest, & Fowl, which still has a few spots available.