Last weekend, Mono Lake Volunteer Coordinator and avid Mono naturalist Janet Carle watched about 50 California Gulls arrive at South Tufa, flying in an organized V formation. Janet reports that once they were over the water, they began circling and calling; she says "It looked like they decided they had arrived at the right place!"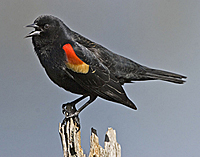 Last Tuesday morning I awoke in my Lee Vining house to the sound of Red-winged Blackbirds calling in the elm tree outside. Right on schedule, they seem to arrive back in the Mono Basin just about March 1 of each year, trilling their cheerful "o-ka-lee" calls throughout town.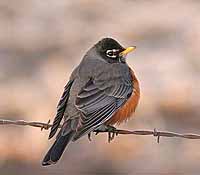 American Robins have shown up as well, bouncing around front yards and among bare branches in Lee Vining. It's only a matter of time before they begin to chase each other, tumbling through the air and skimming along the ground, all in hopes of a mate.
As the Earth tilts once more, sunlight now streams into Ellen's, Erika's, and Bartshe's west-facing office windows until almost 4:30pm each day, a far cry from the weak wintry light that disappeared behind the mountains at 2:00 in mid-December. We no longer dash out of the building to catch sunset at 4:45; instead we can bring back "The Evening Walk" to see the clouds change to pink and the mountains fade to blue.
Arya and I just put our winter-spring issue of the Mono Lake Newsletter into the mail to the printers … it seemed strange to be writing about the winter in past tense, when snowstorms can rage into the Eastern Sierra as late as May and June. But these signs of spring all around us promise that the season really is changing, just in time, right when it's time, and not one moment before.