With only two weeks left until the summer solstice, wintry weather brought cold temperatures, rain, and snow to the Mono Basin this weekend. On Friday morning Tioga Pass was closed briefly and Sonora Pass had chain controls.
WEATHER
We've had over two weeks of thunderstorms and more are expected next week. Our rain gauge in Lee Vining caught at least a trace of rain on ten of the last 14 days, adding up to almost an inch of rain. This morning heavy snow was reported along Tioga Road. The weather will warm up on Sunday.
BUGS
Cold and stormy weather has kept the bugs away. But a few mosquitoes are coming out in the canyons.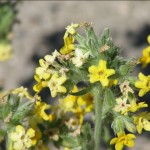 PLANTS & FLOWERS
The bitterbrush bloom is ending at low elevations but there are still many showy flowers out. Arrowleaf balsamroot is turning the moraines and hillsides yellow. Lupine are lighting up the roadsides along with sulphur buckwheat and paintbrush. Wild rose is beginning to bloom as well as spiny hopsage.
BIRDS
Osprey are very commonly seen in most areas near water and are making new nests at South Tufa. Tanagers, warblers, swallows, and flycatchers can be seen along the creeks. Click here for recent bird and wildlife sightings. The bird walks at County Park are popular-join us on Fridays and Sundays at 8:00 am. There are only two weeks left until the Mono Basin Bird Chautauqua—register online now!
The California Gull nest count was the last week in May. This summer is looking like a good year, with over 24,000 nests counted on Mono Lake's islands!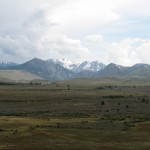 RUNOFF
Most of the creeks peaked on June 1st, but Rush Creek above Grant Lake Reservoir should still see a higher flow when the weather warms up again. Gem Lake is nearly full and is spilling a lot of water that is going over Horsetail Falls. Grant Lake Reservoir is rising fast and the boat ramp at the marina will be back in the water by early next week. Mono Lake rose to 6382.45 feet above sea level by June 2nd and is rising at about 1/10 of a foot every two weeks. This rise should slow down soon when the Los Angeles Department of Water & Power resumes diverting Lee Vining Creek water over to Grant Lake Reservoir.
HIGH COUNTRY
There is still a lot of snow in the high country above 10,000 feet, but it has been melting fast into separate patches. Several inches of new snow fell today above 8,000 feet—this weekend's cold weather will slow the melting. The Tuolumne Meadows Visitor Center opened today and is open 9:00–5:00 daily.
ROADS AND SERVICES
All roads are open with the exception of Saddlebag Lake Road. The Tuolumne Meadows Visitor Center opened today and is open 9:00–5:00 daily. The campgrounds near Tioga Pass should open soon.