This post was written by Melissa Boyd, 2014 & 2015 Outdoor Education Instructor.
From a very young age most of us are afraid of the dark. As we get older we usually don't find the dark to be as scary as when we were little, but most of us would probably admit that it's a fear that doesn't completely go away. As a human, being afraid of the dark is totally understandable because we can't see as well in the dark as we do when there's light. Plus, it's a fear that's constantly instilled in us through horror movies, scary stories, and Halloween. At the Mono Lake Committee Outdoor Education Center (OEC) we try to get students to face their fears, including fear of the dark.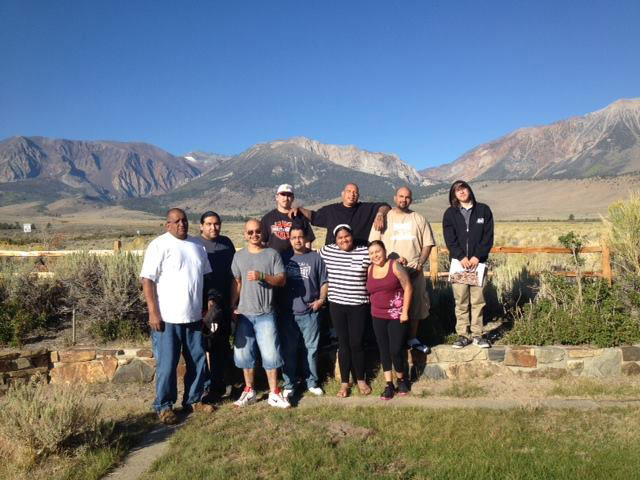 Many students come to the OEC from large urban areas, such as Los Angeles, and most of them have never been in a wilderness setting. When they first get here they are a bit nervous and quiet, so, to get them out of their shells and comfortable with us and the surroundings, we take them on a "night walk."
For the night walk we take the students to the beautiful Jeffrey pine forest near Mono Mills and walk with them along an old volcanic ash road in the early evening after the sun has set. We all walk silently along the road for about a quarter of a mile and then stop to do a few activities, such as howling at the moon like coyotes and learning about rhodopsin. After this each of the students does a solo walk.
What happens during the solo walk is that one of the instructors walks back along the same path the group came and sits and waits at the start of the walk for the students as each of them walks back, by themselves, to the waiting instructor. Some of the students, like many of us, are afraid of the dark, so before we begin the night walk we ask the students to talk about what they are concerned about pertaining to the walk. We call this the "circle of fears" and it allows the OEC instructors to make the students feel comfortable and safe during their solo walk.
After the students express their fears we explain why they don't need to be concerned. For example, students often say they are afraid of tripping, so we explain to them that we will be walking on an old road that doesn't have obstacles, such as tree roots, that they could potentially trip on. Common concerns that people express are getting lost, being attacked by wild animals, and their mind playing tricks on them. However, there are times when people express fears that are out of the ordinary and sometimes I'm really taken by surprise. This brings me to my story of an amazing group called Homeboy Industries that visited the OEC in late August.
Homeboy Industries is an independent non-profit in Los Angeles that serves formerly gang-involved men and women with a number of free services and programs and provides them with employment. This August, nine Homeboy members and one leader came to the OEC to learn about the Mono Basin and experience life outside of LA. On their second evening at the OEC we took them on the night walk, and before the walk we went through the "circle of fears" like normal.
I was expecting them to say things like being afraid of tripping and getting lost, but most of them had responses that were very unexpected. Actually, due to what they had been through in life, I wasn't really expecting them to be afraid at all. They were all ex-gang members from LA, and I can't even begin to imagine how difficult and scary some of the situations were that they had been in. So they each expressed their concerns about the walk to the group and, not only were their fears unexpected but they were also somewhat … comical.
It turns out that not only were they funny to me, but they also laughed at themselves and at one another. The "circle of fears" is usually a quiet activity, but with this group during the circle none of us could suppress our laughter. One guy, in his fifties and as big as an NFL linebacker, said that he was afraid of getting abducted by aliens. Right after that the youngest member of the group said he was scared of getting "the zombie bite." So, not only was he afraid of zombies attacking him in the quiet Jeffrey pine forest but he was also afraid that they would bite him. The only woman in the group said she was afraid of Mike Meyers. I thought she was talking about the guy in Wayne's World, but it turns out he is a fictional character in the Halloween movies. It may sound like they were joking, but they were being honest! It was so great that they could be that honest, and it was also really fun to laugh about fears with them.
All of the Homeboys ended up doing the solo walk in the dark, and, as you probably figured, none of their fears became real during the walk. There were no aliens or zombies, and nobody named Mike Meyers was hiding behind a pile of pinecones. We all returned to the OEC safe and sound and ready to explore the Mono Basin the next day.
Overall, the night walk helps students understand that they don't need to be afraid of the dark. It gives them a chance to conquer their fear of the dark (if they are afraid of it) and walk alone in a quiet forest, which many of them have never done before. I enjoy the night walk because it shows that we have many fears that we create in our minds. For example, zombies probably never will bite us but we can definitely convince ourselves that it's possible. I think this walk gives the students an idea of how important it is to challenge their fears, and how much they can grow if that's what they decide to do.