With the Tioga road open to the high gate over the weekend and a clear forecast in the days ahead, it looks possible that Tioga Pass could open this week.
There are lots of rumors out there, and given the warm weather and sparse snow year, it makes sense. Here at the Committee we've heard that the official word is May 15. That being said, we also saw the SFGate article "Low snow, so take the high road soon," which reported the road is likely to open this week.
The official National Park Service update reports that the Tioga Road is open to bicycles, but not vehicles. It also says, "there is no estimate when the Tioga Road may open to vehicles."
We've also heard that Hwy 108 over Sonora Pass is slated to open Friday.
I took a jaunt up to the pass this weekend and it was a beautiful sight. Coming from the Mono Basin, where the ground has been dry for weeks, there is a surprising amount of snow in the high country. As we all know, travel on mountain roads is not to be taken lightly, and the road crews' work to clearing snow, rocks, and even fallen trees is critical for traveler safety. There was evidence of much post-winter rockfall work along Hwy 120 between Lee Vining and Tioga Pass. There were also beautiful back country ski tracks on the slopes above the road. If you are planning to ski be sure to check the Eastern Sierra Avalanche Center's snow report.
At 1:30 today I headed up to check out the pass again only to find that it is currently closed at the low gate.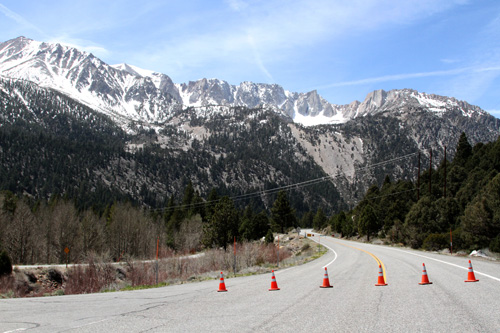 So, if you are planning to drive over (or even to just drive up) Tioga Pass the Mono Lake Committee always recommends checking the road report or calling the Yosemite National Park information line at (209) 372-0200 or CalTrans' road information line at (800) 427-7623 or  before you go.
And if you hear updates, let us know, and we'll do the same!