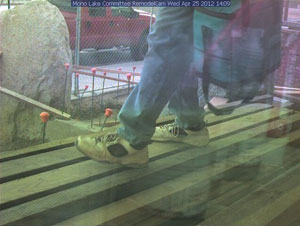 Check out the Mono Lake Committee's newest, temporary webcam: the Remodel Cam! Greg installed it just inside the front doors today, and it's pointing out toward the street to bring you glimpses of our exciting remodel project.
This camera will be on most of the time from 6:00am to 6:00pm, Monday through Friday, for the duration of the project. We may move the camera around to show different views, and we may need to unplug it if someone needs to use the internet in the bookstore. Also, inclement weather delays the remodel, so if you see snow or rain in the camera, you probably won't see anyone working.
Keep checking to see the ADA-accessible lift installed, the granite boulders stabilized, and the new deck materialize … plus much more. Let us know what you think in the comments section!