September 28 is a day that figures large in the Mono Lake story. On this day in 1994 the California State Water Resources Control Board issued Decision 1631, often known as the decision to save Mono Lake. And on this day in 1984 the Mono Basin National Forest Scenic Area was created, at the time the only designation of its kind in the country.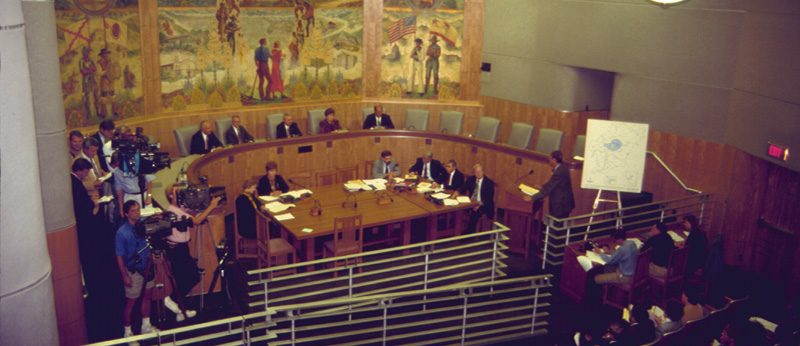 In 1994, after 43 days of testimony about Mono Lake, the five-member State Water Board unanimously adopted Decision 1631, which set permanent streamflows for Mono Basin streams and a lake level of 6,392 feet to protect Mono Lake's public trust values, as ordered by the California Supreme Court in 1983. The State Water Board also ordered DWP to prepare and implement plans to restore streams and waterfowl habitat damaged as a result of diversions. Sixteen parties had participated in the hearings, and notably, no party appealed D1631.
As this year's Defender of the Trust, Hap Dunning, put it in his essay for the 2015 Mono Lake Calendar, "That decision with its accompanying order marked, if not the end, at least a major turning point in many years of judicial and administrative activity regarding challenges to diversions of water in the Mono Basin by the Los Angeles Department of Water & Power." Many of the subsequent successes at Mono Lake have been based on that turning point in 1994, including last year's groundbreaking Mono Basin Stream Restoration Agreement.
D1631 came about as a result of years of hard work for Mono Lake, which included the designation of the Mono Basin National Forest Scenic Area on September 28, 1984. The Scenic Area followed on the heels of the establishment of the Mono Lake Tufa State Natural Reserve in 1981, adding another "layer" of protection to the Mono Basin as it began to slowly recover from over 40 years of excessive water diversions.
Looking back 20 and 30 years ago today to recognize the achievements of those pivotal dates, we realize that there's another way to recognize what was won here at Mono Lake: look outside to the lake itself. Today has been a wonderfully stormy, cloudy, moody day in the Mono Basin, bringing much-needed precipitation to Mono Lake. Flocks of Eared Grebes bob on the lake's surface, aspen trees turn fiery orange along the streams, and a dusting of snow sits on the mountaintops. For those of you who aren't here today, here's a glimpse of what we saved, what we're restoring, and where the future lies, for generations to come.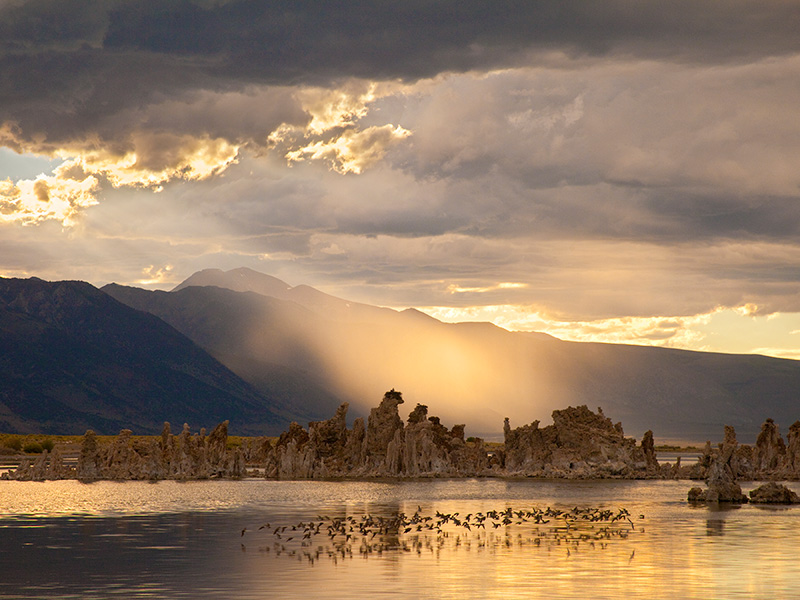 Long live Mono Lake!