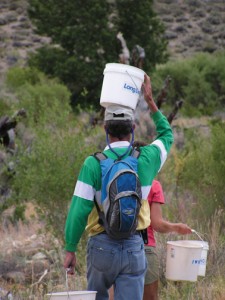 The following events from our Calendar of Events are coming up soon:
September 9, 2009: Help Keep the Trees Alive!
Water Jeffrey pine seedlings planted this spring along Rush and Lee Vining Creeks! Meet on September 9 at 10:00 AM at the Mono Lake Committee Information Center & Bookstore to carpool to Rush Creek.
September 12-13: Living on the Edge: Sierra Nevada Bighorn Sheep in the Mono Basin
A field seminar lead by John Wehausen. This wonderful alpine experience still has three spots available. Register today to save your spot!
September 12: High Sierra Fall Century
A 100-mile bicycle ride through the Eastern Sierra. Shorter rides are also available.
September 13: Tioga Pass Run
A 12-mile run from Lee Vining to Tioga Pass. Only one hill!
September 22: Evaluating Climate Change in the Eastern Sierra: Adaptation Options for Planning & Project Implementation
12:30-4:30 PM at the Methodist Church in Bishop. This workshop is a part of Inyo National Forest's research and management partnership with the Pacific Southwest Research Station (PSW), working together to incorporate climate into resource management and planning.
September 26: Mono Basin National Forest Scenic Area 25th Anniversary Celebration
Celebrate the 25th anniversary of the nation's oldest National Scenic Area and dedication of the new Lake Trail. 9:00 AM celebration at Visitor Center and 12:00 noon dedication at Gaines Boardwalk at the Old Marina Site.
September 26: Mono City House Concert: Ellis Paul
7:30 PM in Mono City. $20 at the door. Reservations required.
October 2-3: Sixth Annual Sagebrush Ghosts of the Mono Basin Tour
Fundraising event for the Mono Basin Historical Society with a BBQ and presentation on Friday 5:30-8:00 PM and and a 9:00 AM – 3:00 PM tour on Saturday. This year's focus is the Log Cabin Gold Mine. $20 dinner and $15 tour.
October 7: Adopt-A-Highway Cleanup
9:30 AM at the Mono Lake Committee Information Center & Bookstore. Help the Mono Lake Committee clean up its 2-miles of adopted Highway 395! Please RSVP by calling (760) 647-6595.
In addition to these events, regular summer tours at South Tufa and elsewhere in the Mono Basin end on Labor Day. Weekend canoe tours also finish for the season this weekend. After that South Tufa tours are offered at 1:00 PM daily through September.