This is the big question right now: When will Tioga Pass open this summer?
After a record-breaking winter, Tioga Pass is likely to open later than it ever has since record keeping began in 1933. July opening dates are already fairly rare—the pass has opened in July only in 2019 (but opened earlier with restrictions), 1998, 1938, 1936, and 1933.
Yosemite National Park's road records include the snowpack percentage on April 1, which can be useful for guessing when Tioga Pass might open. So far, the latest opening dates for the road (June 24–July 1) occurred during years with 156–178% of average snowpack as measured on April 1.
For comparison, this year's snowpack was measured at a whopping 221% of average on April 1!
Plowing progress
Yosemite posts a weekly plowing report for the Tioga Road. Last week's report says, "At least one lane is plowed along the length of Tioga Road, although the Olmsted Point avalanche zone is still active and dangerous. More plowing, tree work, road work, and sign replacement is still required before the road can open. Additionally, restrooms must be available before the Tioga Road can open to the public. Restrooms are necessary to protect public health, water quality, and other park resources. There is no estimated opening date."
Caltrans posted on June 16 about the progress they made plowing from the east toward Tioga Pass. Yosemite posted on June 24 about the complicated avalanche zone at Olmsted Point that slows progress in plowing from the west toward Tioga Pass.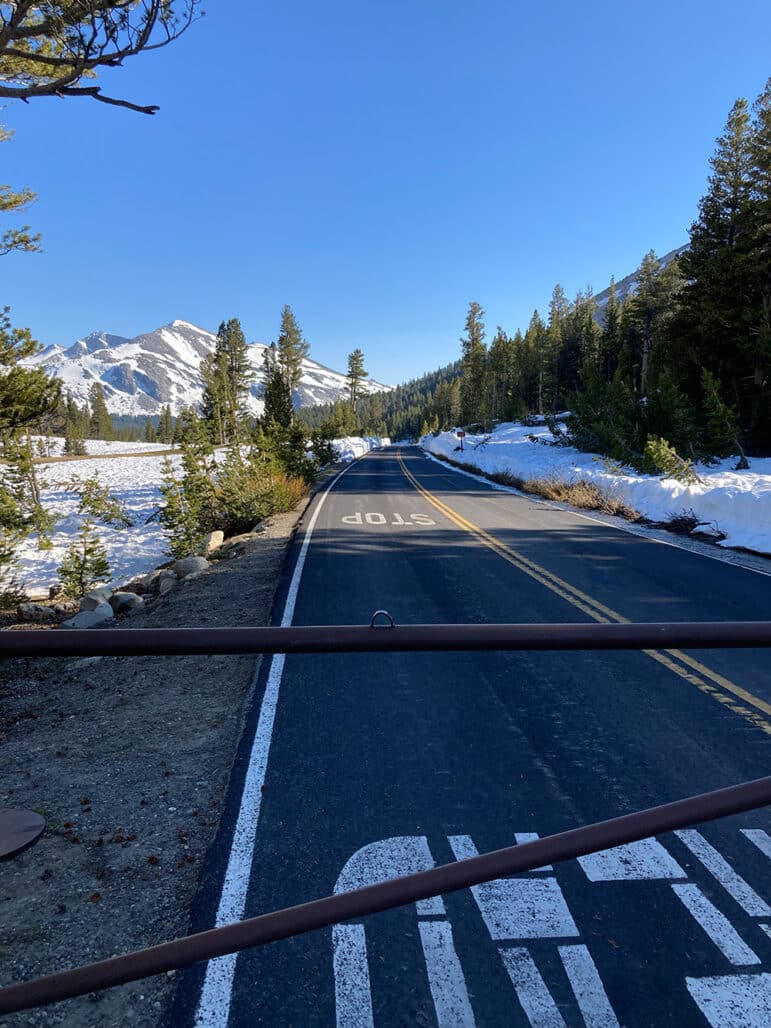 What's your guess?
We started an office poll about when the pass might open… You can see our guesses below. Comment on this post to add your guess!
Greg: July 12
Maureen, Ellen: July 13
Nora, Lily: July 14
Kenna: July 15
Anna: July 20
Robbie, Elin, Ryan, Leslie: July 21
Geoff: July 27
Andrew, Fiona: July 28
Liv: July 31
Corey: August 2
When Tioga Pass opens, the news will be shouted from the rooftops. Keep an eye on the Caltrans website and our road conditions page, or give us a call for the latest news: (760) 647-6595.
Top photo by Elin Ljung: Plowing progress toward Tioga Pass on June 4, 2023.