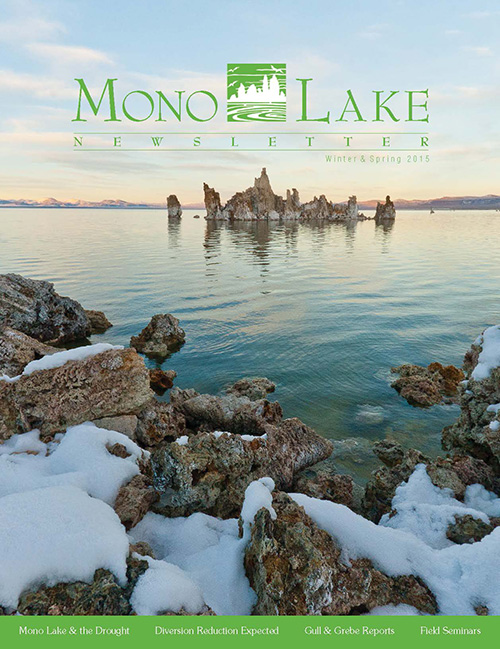 We were talking about the dropping level of Mono Lake. Geoff was at his desk, Lisa was perched in her regular spot on the blue steps, Bartshe was leaning on the door jamb, Jess and Elin were on folding chairs, and Greg and I were on the speaker phone delicately balanced on a small stool—all within the space of about ten square feet.
During the discussion I was struck by the fact that when we talk about the lake level we almost always use "we" instead of "it." "If the lake drops one foot we'll be at…." "If we get the wettest March on record, where would that put us on April 1?" The whole staff does it. Mono Lake Committee founder David Gaines famously wrote, "We are Mono Lake." And I don't want to be overly groovy about it, but here we are many years and many lake levels later saying the same thing without even realizing we're doing it. But it's so true—when the lake rises we are proud. When the lake drops we take it hard.
So … we are at 6379′. If we are still below 6380′ on April 1 water exports from the Mono Basin will be reduced from 16,000 to 4,500 acre-feet. That's a lot of water, and the fact that this reduction in water supply to Los Angeles is happening after three consecutive years of drought is anything but a lucky coincidence. Many people over many years have worked tirelessly, and with enough foresight to plan ahead for this lake level. And many people have conserved water with hopes of avoiding the lake getting this low again. This keeps us going, and inspires us no matter what lake level we're at.