Every April, after the April 1st snow surveys are in, the Los Angeles Department of Water & Power (DWP) issues a preliminary April 1st runoff forecast, and then a final forecast update in May. The April 1st forecast for the Mono Basin for the April 1 2011–March 31 2012 runoff year is 147% of average!
We always get asked why the runoff forecast is different than the snowpack—if the snowpack is 169% of average, shouldn't the runoff be the same? The simple answer is that the snowpack is extremely variable, and some of it soaks into the ground or sublimates into the air—so not all the water in the snow becomes runoff.
Since the State Water Board decision in 1994, only two years have had more than 147% runoff: 1995 (176.3%) and 2006 (152.4%). The runoff years 1998 (141.4%) and 2005 (147%) were very close. Since wet years are usually under-forecasted (six of the past seven wetter-than-average years were underforecasted by an average of 8.4 percentage points), we should not be surprised if the final May forecast and the actual runoff are over 150% of average.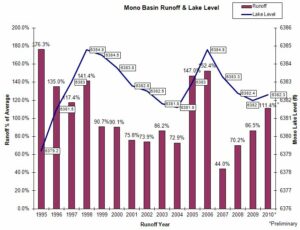 DWP has not yet issued a Mono Lake level forecast for this year. Since both 2006 and 2011 followed on the heels of a wet year that filled up groundwater and Grant Lake Reservoir, and the runoff looks to be similar in both years, we can use Mono Lake's rise in 2006 to get an idea of how much it might rise this year. Differences in starting elevation aside (in 2006 the April 1st lake level was 0.7 feet higher than this year), in 2006 Mono Lake rose 2.1 feet during the summer and had a net rise of 1.8 feet at the end of the runoff year.
I would expect to see Mono Lake behave in a very similar way this year. In fact, I would not be surprised to see Mono Lake rise more in 2011 than it did in 2006! This is because:
Mono Basin's two largest reservoirs, Grant Lake and Gem Lake, were a combined 8,000 acre-feet more full on this April 1st than they were in 2006.
The end of the 2006 runoff year (going into calendar year 2007) was one of the driest winters on record.
This year's export volume is reduced by about 7,000 acre-feet. Click here for details on the real-time data page—the information in the right frame has been updated for this year.
Snow surveys showed greater snowpack in the Lee Vining Creek drainage, and the East Walker River has a 196% runoff forecast, which may be somewhat representative of parts of the adjacent Mill Creek watershed, where DWP does not issue a runoff forecast.
On April 1, 2011, Mono Lake was at 6382.3 feet above sea level. A two-foot rise would get it up to 6384.3 feet—within a foot of the highest it has been since the early 1970s (it reached 6385.1 feet in both 1999 and 2006). What an exciting year!