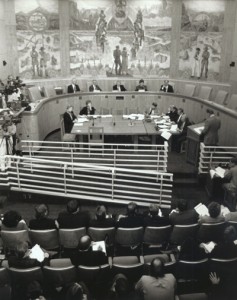 Today is September 28, a day of great significance to Mono Lake!
Check your Mono Lake Calendars … that's right, today is the anniversary of the State Water Resources Control Board vote on Decision 1631—the decision that protected Mono Lake by ending the excessive diversion of water to Los Angeles.
It's easy to remember where I was exactly 18 years ago today since I was the Committee's photographer and Newsletter editor at the time. That put me in Sacramento to see the cheerful proceedings, the broad coalition (including Los Angeles) press conference of support, and most importantly the celebrations of  Mono Lake advocates.
Water Board vice-chair Marc Del Piero said, at the vote's conclusion, "Today we saved Mono Lake." Biologist Eldon Vestal reflected on the improbability of achieving such a landmark victory: saving the lake and streams, he said, seemed like "grabbing for a bite out of the moon."
Wherever you are today, take a moment to celebrate for Mono Lake. Yes, we've got a long way to go, but it is down a road of lake restoration and stream health recovery that leads to a bright future indeed.