Last year, I wrote about how hot the summer of 2012 was in Lee Vining. So far, 2013 is even hotter. Both June and July average temperatures were the warmest on record this year. But it has been much rainier as well.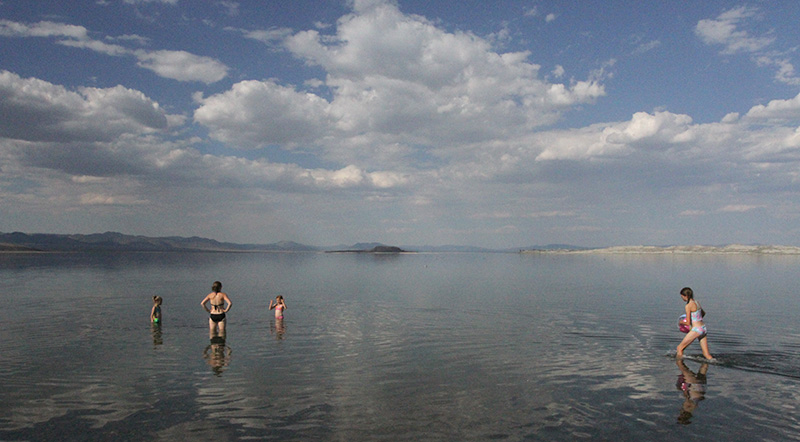 From April 1 to August 1, Mono Lake dropped only 2/3 of the 1 foot that it dropped last year (both dry years), primarily because of about two inches more rain this year. Those cooler rainy days also kept July 2013's average maximum temperature about the same as July 2012, despite having warmer minimums and maximums.
July 2013 had a record number of nights (eight) in the 60s (degrees F). It set a new record for the average minimum temperature (58) and tied the highest minimum temperature on record for the month (51). July also had eight days in the 90s (average is only 3.7 days). The only July with more was in 2007, when there were ten sweltering days in the 90s. At the Mono Inn, there were eight or more July days in the 90s only five times from 1951–1987.
Perhaps most remarkable, three days this July had a maximum temperature of 95. Only twice before (since the weather station moved to Lee Vining from the Mono Inn in 1988) have temperatures reached as high or higher, to the record high of 96 degrees: once in 2002, and once in 2007. Only four times between 1951 and 1987 did temperatures reach those heights at the Mono Inn, with 97 degrees the record.
Looking back to June, there were a record four days in the 90s. June 2000 was the only other June with any days (two) in the 90s since the NOAA's Lee Vining weather station began operating in 1988. Interestingly, 90-degree days in June were common when the weather station was at the Mono Inn, happening almost every other year, with a record seven days in the 90s in June 1961.
At Cain Ranch, the mercury hit 99 degrees in July, tying a record that was only hit twice between 1991 and 2010.