This post was written by Julia Runcie, 2010 Project Specialist.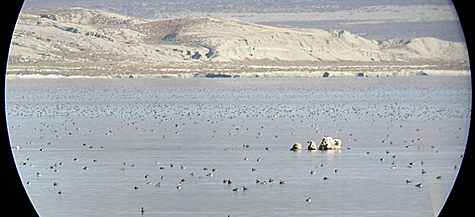 Researcher Sean Boyd with the Pacific Wildlife Research Center recently finished tallying up the results of the October 13th Eared Grebe survey on Mono Lake. No easy task, since the only way to come up with an accurate estimate is to laboriously count the tiny grey specks in each of about 500 aerial photos of the lake surface. Once Mr. Boyd has converted the raw numbers to densities (#/km2), adjusted for scale, and extrapolated based on the current surface area of the lake, he can provide a final count.
This year the survey resulted in a total of ca. 514,000 birds +/- 7.6% SE—slightly fewer than last year and considerably fewer than in years past, when the lake has hosted as many as two million Eared Grebes. Perhaps the lower numbers are the result of a sub-average brine shrimp yield, or perhaps the date of the survey missed the height of grebe abundance. At any rate, the fact remains that Mono Lake is an immensely important staging site for huge populations of migratory birds.