In September 2012, we posted here that part 1 of Elden Vestal's deposition had been found, and posted online by California Trout. We noted that a search for part 2 was underway. Well, the search is over!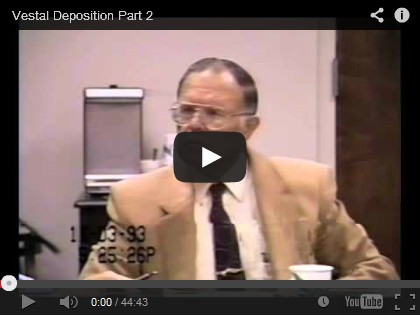 Former State Water Board staff member Jim Canaday had a copy of the missing video, the California Department of Fish & Wildlife digitized it, and the Committee has posted it online. Both YouTube videos (part 1 and part 2) can be found on our Historical Interviews page on the Mono Basin Clearinghouse.
This year marks the 20th anniversary of the State Water Board decision protecting Mono Lake and ordering restoration of its tributary streams. The 1993 videos of Elden Vestal's deposition are a reminder of how much hard work it took to get to that momentous decision, and how many people were involved. The videos are also a reminder of how amazingly productive the Mono Basin's fisheries were prior to the start of DWP's excessive water diversions in the 1940s, and how much farther the streams have to go—a distance that last year's settlement agreement will make shorter.
In part 2 of the video, Elden's remarks focus on the Rush Creek fishery. He talks about the incredible importance of the cold springs below the narrows now known as Vestal Springs. He mentions the large fish in the Rush Creek delta that fed on Mono Lake Brine Shrimp at the freshwater/saltwater interface. And he discusses the large numbers of waterfowl that used to stop at Mono Lake in the fall.
Part 1 of the video is an hour and 45 minutes long, and part 2 is just 45 minutes. If you can spare a few minutes, we hope you will enjoy turning back the clock and listening to Elden as much as we do.