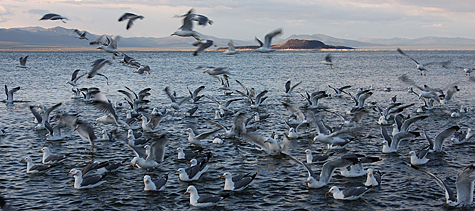 After 28 years of annual gull research on Mono Lake's islands, you might wonder if there are any unanswered questions still out there. After reading PRBO's 2010 report on the gull research (you can download the report here), the answer is clearly "yes"—and some of those questions were answered this year.
First, the results from the counts done every year. The 2010 California Gull population at Mono Lake was the second-lowest since 1983, and the number of chicks produced was the lowest ever recorded. The record cold spring weather and delayed hatch of brine shrimp likely contributed to the low nesting success. The researchers also noticed higher nest predation rates from other gulls than they had ever seen before, possibly due to lack of early season brine shrimp food.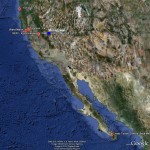 Next, the new insights. Two hundred chicks were banded with colored bands this year. Six of those were found in coastal California locations in August and September. The locations ranged from the tip of Baja to Trinidad on California's north coast, with most of the detections on the Farallon Islands west of San Francisco. The numbers of California Gulls at Southeast Farallon Island were greatly reduced from the previous year, possibly due to the low nesting success at Mono Lake.
California Gulls began nesting at San Francisco Bay in 1980, the same year that Mono Lake's Negit Island colony was abandoned and a year after it was decimated by coyotes. During the last ten years, the nesting colonies at Mono Lake and San Francisco Bay have been negatively correlated, implying that the gulls assess the conditions at both locations before deciding where to nest. In 2010, 23,025  nests were counted at San Francisco Bay and only 18,186 at Mono. For two of the last three years Mono Lake has had a smaller gull population than San Francisco Bay. This is significant, because it means that Mono Lake is no longer the largest nesting colony of California Gulls in California. But this may be a temporary shift—in December, a San Francisco Bay levee was breached in Pond A6 where 23,000 gulls nested, restoring tidal action to the area. Due to the loss of this nesting area, we should expect Mono Lake's gull numbers to be higher in 2011.
Lastly, a California Gull that was banded as a chick at Mono Lake in 1983 was spotted again nesting here in 2009. This makes it 26 years old—just two months short of being the longest living California Gull recorded through banding data. You can be sure the researchers will be keeping their eyes open for it when they return to Mono Lake's islands this summer.