In 1994, the State Water Resources Control Board issued Decision 1631, restoring Mono Lake and its tributary streams through a plan of reduced water diversions to Los Angeles. At that time, the decision considered LA's water supply projections:
The Los Angeles Department of Water & Power (DWP) projects that the city will use approximately 700 thousand acre-feet per year by 1995, increasing to 756.5 thousand acre-feet by 2010 due to population growth. DWP cautions, however, that large uncertainties exist regarding future projections.
The decision went on to commend LA for its conservation efforts:
Although Los Angeles water use exceeded 700 thousand acre-feet during 1987, the City's vigorous water conservation programs during successive drought years reduced water use by more than 20 percent between March 1991 and April 1992. Reduction in water use due to water conservation remained above 15 percent after drought conditions ended, which suggests that a permanent change in water use patterns has been achieved.
So how do things look in 2010? Has a permanent change in water use been achieved, or is the city using 756.5 thousand acre-feet (taf) of water, as was projected in 1994?
On January 14, 2011, DWP released its Draft 2010 Urban Water Management Plan (comments are due March 15th). In the plan, the city's 2010 water use can be found: only 554.1 taf. This is 202.4 taf less than the projection—27% less water than anticipated!
If we adjust for the drought and recession, the 2006 to 2010 five-year average use was 621.7 taf, or 134.8 taf less and 18% less than the 1994 projection.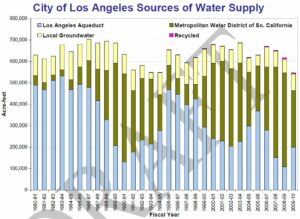 The 2010 draft plan, of course, makes its own 25-year future water use projection. Expected 20% conservation by 2020 and an additional 64 taf conserved by 2035, along with 59 taf of water recycling by then, 10 taf of stormwater capture and 15 taf of increased groundwater production, along with other measures such as water transfers, and with 400,000 new people expected to move to the city, the projected 2035 water use is 711 taf—still 6% below the 1995 projection for 2010. Yes, the water conservation efforts appear to be permanent—and an essential part of the plans for the future.
But that is still an increase in total water supply—where will it come from? If it comes from the same place as the projected increase in 1994, it will come from nowhere because it won't be needed. LA's water use now is essentially the same as it was in 1970, however there are a million more people living in the city. There is no reason to believe that the addition of 400,000 people during the next 25 years will result in an increase in water use, as long as the city continues its aggressive conservation and recycling efforts of the past two decades.