After the wettest February since 1986 at some survey sites, Mono Basin snowpack is more than double the March 1st average!
Snow water equivalent (SWE) ranges between 205% and 244% of average at the five snow survey sites in the Mono Basin (called snow courses). Gem Pass, Ellery Lake, and Saddlebag Lake have the highest March SWE on record. At the lowest-elevation snow survey site—Gem Lake at 9,150 feet above sea level—SWE was about 10 inches shy of the 1969 record, but it had reached the 1983 amount. The Tioga Pass snow course was 5 inches shy of the 1983 record. In the map below showing the snow courses, portions of the Lee Vining Creek (top) and Rush Creek (bottom) watersheds are outlined.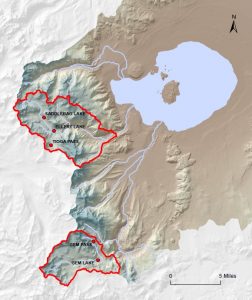 At Ellery Lake and Saddlebag Lake, in the Lee Vining Creek headwaters, March 1st SWE was already higher than the record April 1st SWE set in 1983! April is typically the date of peak snowpack accumulation. So far this year, Saddlebag Lake SWE has exceeded the April 1983 record by four and a half inches, and Ellery Lake has exceeded it by about half an inch.
Gem Pass and Saddlebag Lake both have a snowpack deeper than 160 inches. This sets an all-time record for Saddlebag Lake snow depth and is an early March record for Gem Pass. At 144.5 inches, Ellery Lake broke its March record and tied the 1983 snow depth record for April.
Lee Vining Creek snow courses have March data pretty consistently since about 1973, and Rush Creek since 1960. There is a spotty data record for both watersheds back to 1926. The two biggest years for snowpack were 1969 and 1983, when Mono Basin runoff was 176% and 196% of average, respectively. 1969 was preceded and followed by drier than average years, and 1983 was preceded and followed by wetter than average years (a runoff year starts on April 1st and ends the following March 31st). 1995—in third place for snowpack overall and with runoff equal to 1969—set an April 1st SWE record at Gem Pass.
Click here to view the California statewide snow survey results for March 1st.