The Los Angeles Department of Water & Power (DWP) has issued its Mono Lake level forecast for the 2014 runoff year. The forecast, running from April 1, 2014 to March 31, 2015, has Mono Lake reaching 6379.0 feet above sea level by December. This will be the lowest level we have seen since March 1996.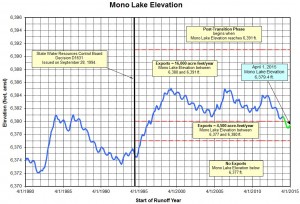 This summer, with only 43% of average snowmelt runoff, Mono Lake is expected to fall from its current elevation of 6380.6 to 6380.0 by August, and to 6379.2 by October. Already the May 1st level is a tenth of a foot lower than the prediction—as also happened in April of the last two years.
The likely rise next winter with median precipitation would bring it up to 6379.4 by the beginning of the 2015 runoff year, when exports for the year are determined. That will mark the end of the driest three consecutive years on record in the Mono Basin (for runoff), and essentially a worst-case-scenario that is a major setback in the lake's long-term rise to the 6392 management level ordered by the State Water Board twenty years ago. Dust storms on the exposed lakebed will get worse this year and coyotes could reach the islands where California Gulls nest.
The one bright spot on the horizon? An El Niño is likely next winter, which often means copious precipitation falls in the Mono Basin and raises the level of Mono Lake. How much wetter than the forecast will it have to be to raise the lake to 6380 feet by April 1st, the minimum level necessary for DWP to avoid a cutback in water exports? About 28,000 acre-feet, in the form of more runoff, less evaporation, and/or more precipitation. A wet winter will probably get us very close to that scenario and keep us waiting to find out until we read the lake level on April 1, 2015.