On Sunday, the Jet Propulsion Laboratory and NASA brought a prototype Mars rover to Mono Lake, staging it under tents at the Scenic Area Visitor Center while they prepared it to go down to the lake. The plan was to test the rover's sampling equipment and procedures in an environment that, while unlike Mars, would provide some Mars-like challenges. In the search for evidence of past life on Mars, scientists think that areas on Mars that had terminal lakes like Mono Lake might have sustained life, and preserved evidence of it.
This isn't the first time NASA has tested its methods at Mono Lake. In August 1995, NASA used an underwater vehicle to take tufa samples. This week, they plan to core tufa and collect evaporite salt deposits—both places that could trap bacteria and bacteria fossils.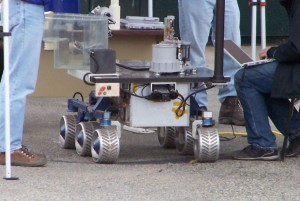 Unfortunately, light rain canceled Sunday's outing, and Monday and Tuesday were also rainy days. Instead, they brought the rover over to the Lee Vining High School where elementary and high school students got to see them coring tufa samples inside.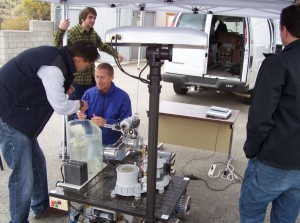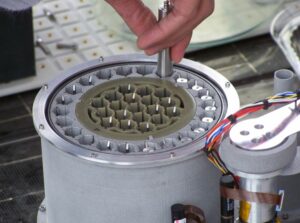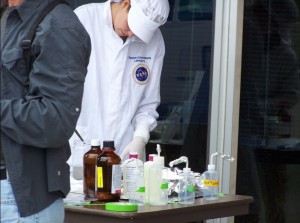 Today's forecast only has a 60% chance of precipitation, but it will be colder with the snow level at 7,200 feet. Weather permitting, the Mars rover will be able to ply the shores of Mono Lake this week, before it returns to its indoor sand box at the Jet Propulsion Laboratory. Click here for an image of the day and updates.