WEATHER
Our sunny and warm weekends have been interspersed with cold, windy, and showery weekdays—but the outlook is for more sun and less snow. April was the third-wettest since 1950 for Lee Vining/Mono Lake (after 1982 and 2006), with 334% of average April precipitation.
TRANSPORTATION
The Lee Vining Airport will be closed from Tuesday until mid-July for re-paving. The Bodie Road (Hwy 270) is open to within 1.5 miles of the State Historic Park—lots of folks are walking the last 1.5 miles to enjoy the spring weather.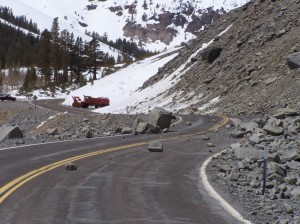 Tioga Pass will be closed for most (and possibly all) of May. Caltrans crews from the east have yet to plow through 3-5 feet of snow at Ellery Lake to the pass and then remove slides and boulders from the road, so the gate at the bottom remains closed. Last weekend several bicyclists and pedestrians and even a skateboarder were enjoying the car-free road past the gate. National Park Service crews from the west have plowed through 8-9 feet of snow to reach the Yosemite Creek area, but their remarkable pace might be slowed by the avalanche zones ahead.
INTERPRETIVE TOURS
May and June are the months when the naturalist-guided walks in the Mono Basin resume after a winter's slumber. Bird Walks on Friday and Sunday mornings at 8:00am at County Park begin Friday May 21. Panum Crater Walks on Saturdays and Sundays at 10:00am begin on Saturday May 22. And South Tufa Walks daily at 1:00pm begin on Tuesday June 1. The 10:00am and 6:00pm daily South Tufa walks don't start until June 26, when the full summer schedule of walks and talks gets underway. That schedule is still being finalized, but it will be similar to last year's. Check this link in late May/early June for the updated 2010 schedule.
If you are looking for more things to do, like taking a Canoe Tour or a Field Seminar, or attending the Mono Basin Bird Chautauqua, please visit our Calendar of Events.
BIRDS AND WILDLIFE
Osprey were spotted catching rodents near South Tufa and bringing them back to their tufa-tower nests. White-faced Ibis were spotted at freshwater areas along the salty lakeshore. A Hooded Merganser and many other ducks are around. View or post your bird sightings here.
FLOWERS AND PLANTS
Flowers in the Mono Basin often start subtly. Aspen trees have been flowering for most of April, but their beautiful hanging catkins blend in with the snow and their bark. The El Mono Motel in Lee Vining has one of the earliest-flowering gardens in the Mono Basin—starting in mid-April it was adding color to the windswept and snowy streets of town. We're finally starting to see desert peach flowers, which along with bitterbrush, will soon turn the Mono Basin pink and yellow. Plateau Gooseberry and Buffaloberry are blooming. Copious April showers will definitely bring a grand display of May flowers (but starting a bit late this year).
Cottonwoods, willows, and aspens are just beginning to leaf out along Mono Lake's tributaries. Green grass and other herbaceous plants are pushing up through the wet soil.
WINTER CONDITIONS
Most lakes are snow-covered except those around the June Lake Loop. North-facing slopes and shady canyon bottoms are still covered in snow. The sun is beginning to win, however, and the sunny days between the wintry storms are just glorious.