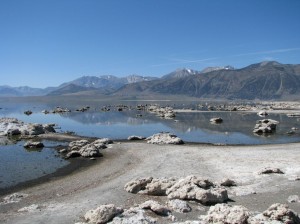 With Tioga Road (Hwy 120) closed west of White Wolf in Yosemite National Park, Labor Day weekend crowds will be smaller than usual in the Mono Basin. Smoke from the Big Meadow Fire near Crane Flat is mostly going north of the Mono Basin. The fire is now 70% contained but road closures will remain in effect at least through the holiday weekend. Click here for the latest on the Yosemite fire.
WEATHER
Warm days and cool nights. Highs near 80 and lows in the 40s. Smoke in the north part of the Mono Basin is intermittent, with some clear and some smoky days. Skies over Mammoth and June Lake are more clear than in the Mono Basin, but smoke is still visible. Click here for current conditions.
HIGH COUNTRY
With Tioga Road closed west of White Wolf, the Tuolumne Meadows and Tioga Pass area should have a rare crowd-free Labor Day weekend. Expect smoke from the Big Meadow fire at times, especially north of Hwy 120.
WILDFLOWERS AND PLANTS
Rabbitbrush and Sagebrush are blooming, making life difficult for allergy-sufferers. The fireweed bloom is almost over. Asters and goldenrod are spectacular at the David Gaines Memorial Boardwalk and the County Park Boardwalk. Yellow leaves are appearing on isolated aspen and cottonwood branches, a harbinger of the colorful fall that is on its way, starting at high elevations and in drier areas and moving downslope as October approaches.
BIRDS
Eared Grebes and California Gulls are abundant on Mono Lake and along its shores. The gulls are leaving as the grebes arrive in greater and greater numbers. Visit our Bird and Other Wildlife Sightings Page to post your bird sightings!
RUNOFF
August runoff was 55% of average, compared to the 66% of average predicted by the Los Angeles Department of Water & Power in the forecast released in the spring. Most Southern California Edison reservoirs are full and will be emptied, as usual, starting this month through next spring. Rush Creek Meadows Reservoir (Waugh) is empty due to dam maintenance, but would normally be emptied this month, so expect more natural (lower) flows in Rush Creek this fall. Currently Rush Creek between Silver Lake and Grant Lake Reservoir is running at 12 cfs, about half the average natural September flow and 1/5th the average impaired September flow. Click here for real-time flows.
Mono Lake has dropped to 6381.9 feet above sea level, 0.4 feet lower than last month and 0.7 feet lower than last year. A new lake level gauge has been installed that can track the lake level down to 1.5 feet lower than its current elevation, although a wet winter would cause the lake to rise. Click here for more lake level information.
CLIMATE
The seasonal outlook for this fall is for warmer-than-average temperatures and near-average precipitation. Anticipation of a strong El Nino (warm tropical Pacific Ocean waters) leads to speculation about a wet winter, but anything could happen.