This post was written by Sandra Noll, Birding Intern in 2014, 2015, & 2016.
Tufa formations juxtaposed against the snow-capped Sierras or reflected on the lake's burnished liquid surface are iconic representations of Mono Lake. Indeed, the mountains, lake, and tufa towers are unique and hauntingly beautiful.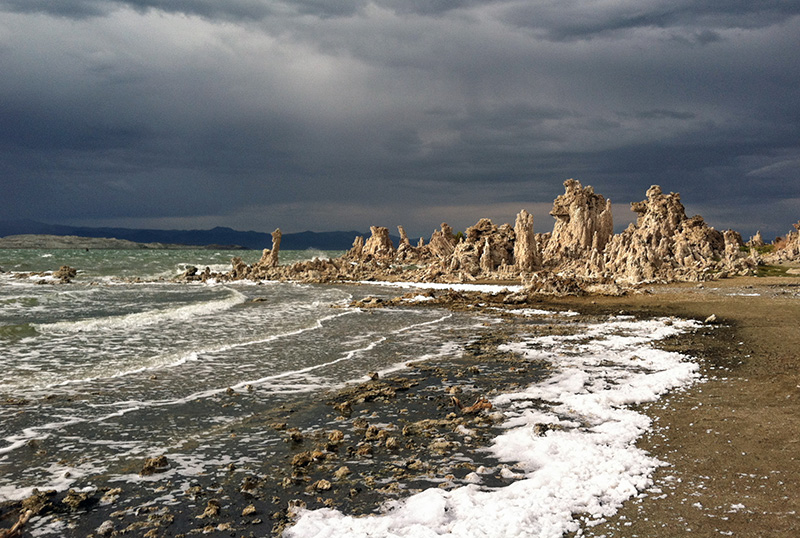 Because the lake has no outlet, trace amounts of salts and minerals brought into it by freshwater streams have accumulated over the centuries, resulting in a thickish soup of salts and alkali. Tufa towers and groves are formed when underground sources of calcium-rich fresh water percolate up through springs and volcanic vents to mix with the carbonate-rich lake water. That mixture creates and deposits calcium carbonate, also known as limestone. The result is tufa: porous, surreal limestone structures, often found in a linear pattern along the freshwater vents, or faults.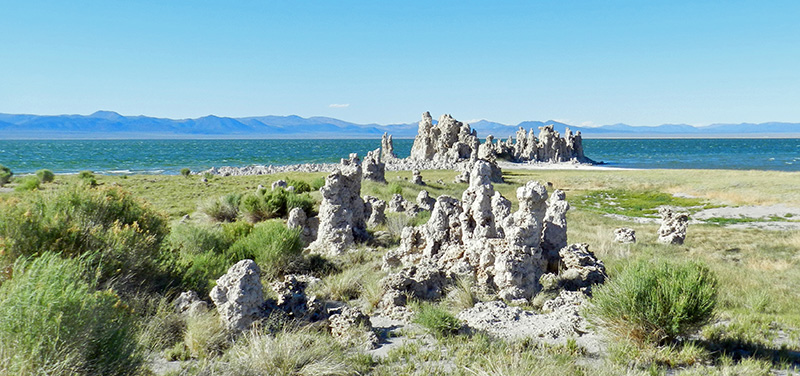 Although formed underwater, many tufa towers are high and dry today. Ancient tufa was stranded by the natural recession of a huge ice-age lake. In modern times, tufa towers were exposed by excessive diversions of the freshwater streams feeding Mono Lake by the Los Angeles Department of Water & Power. Diversions began in 1941, and led to an extreme drop in lake level, thus, exposing more tufa towers.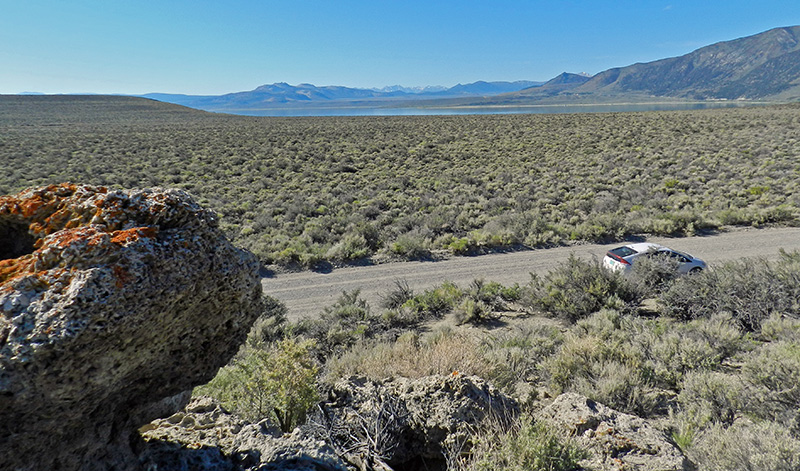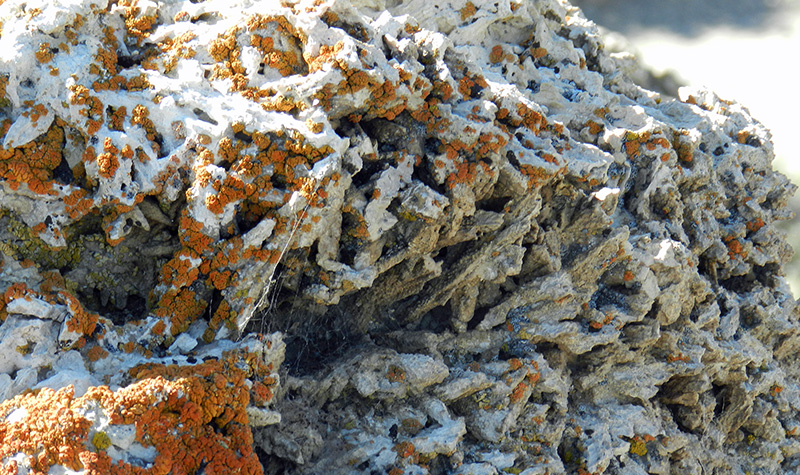 There have been at least three distinct types of tufa created in Mono Lake: a more crystalline-structured tufa from the ice age; a delicate sand tufa; and the more common limestone tufa. The latter also provides roosts and nesting sites for birds.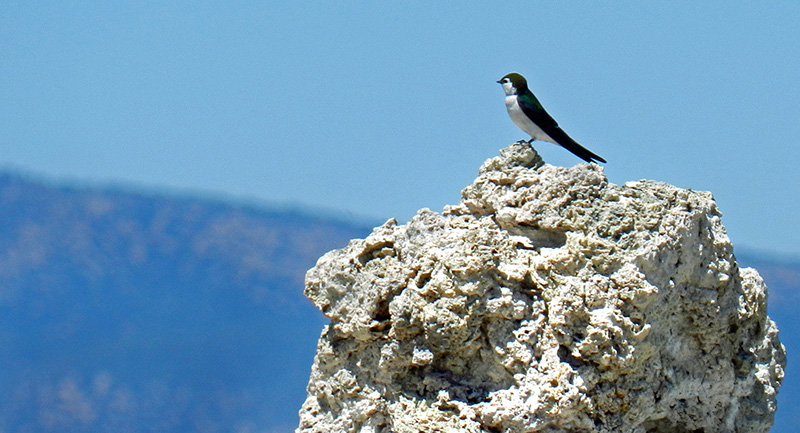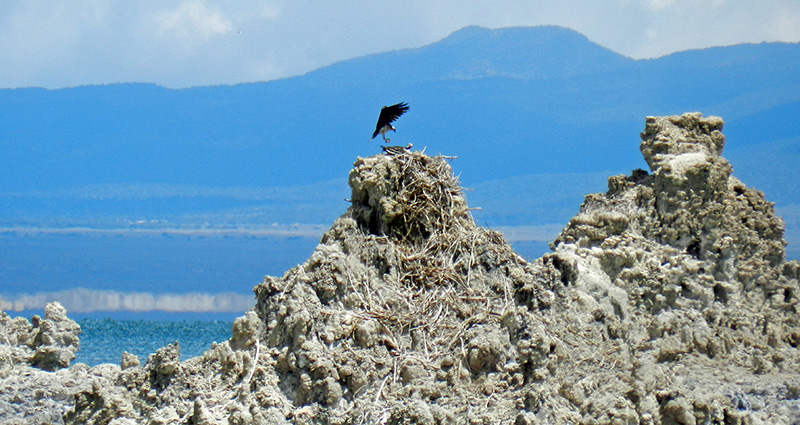 All tufa are magically enhanced by the elements—the angle of sunlight or moonshine, or (my favorite) clouds and stormy weather. The magic of mountain, plus lake, plus tufa draws visitors back again and again.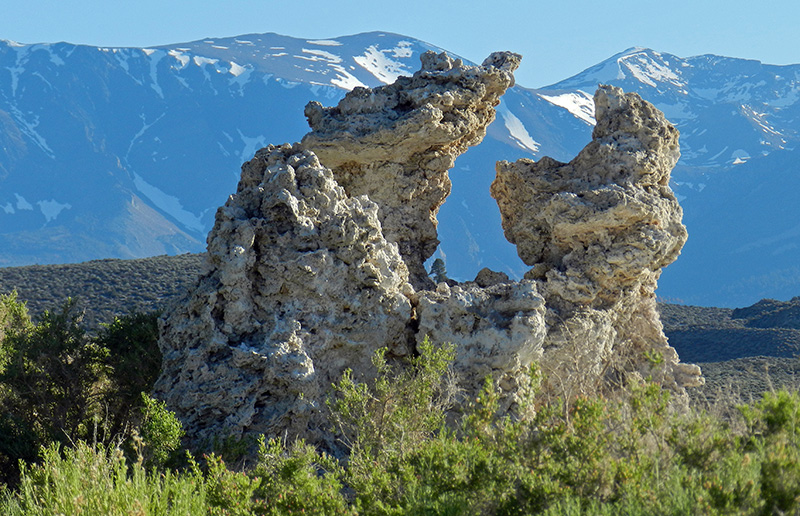 Join us for a naturalist tour of the South Tufa area on your next visit! We make tufa before your very eyes, and you'll get an up-close and personal introduction to the alkali flies and brine shrimp that support several important nesting and migratory bird populations. The free daily tours begin at the South Tufa kiosk at 10:00am, 1:00pm and 6:00pm.