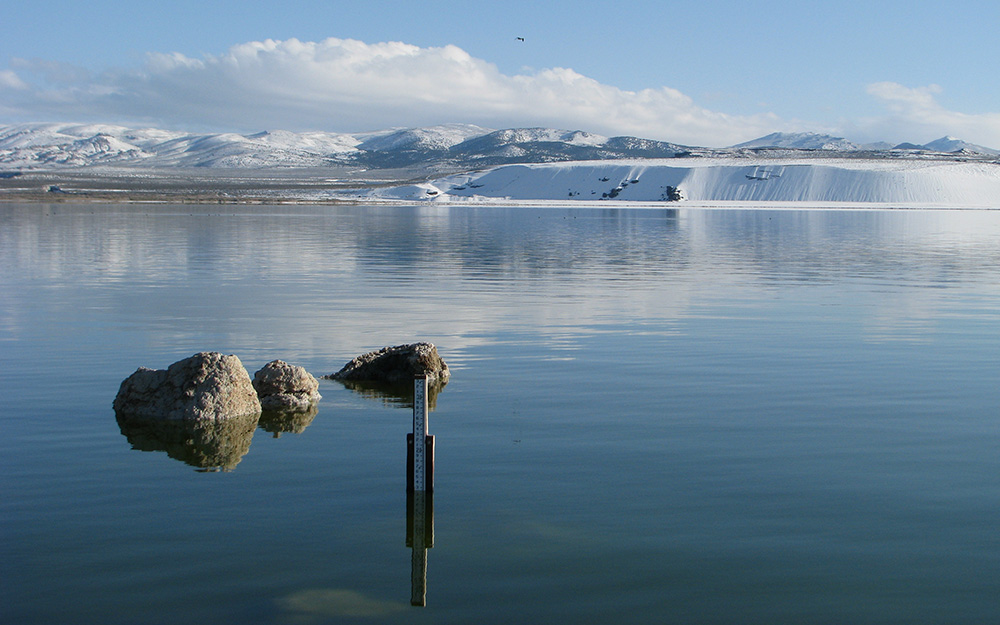 With May only half over, we have measured almost three inches of precipitation in Lee Vining—surpassing the usual total for all of April-September. This May has already beaten the previous records of 2.23 inches measured in May 1989 and 2.74 inches measured in May 1994. It has also been cold, with over 16 inches of snow already beating the 14.6 inches measured in May 1994. At Cain Ranch, it is already the third-wettest May since 1931.
As Rush Creek above Grant Lake Reservoir nears record-low flows for May, record highs for precipitation are welcome.
A cold May with 400% of average precipitation is very good news for Mono Lake. Reduced evaporation helps slow the declining lake level, and direct precipitation on the lake a week ago raised the level about a tenth of a foot. It now stands at 6379.0 feet above sea level, about a tenth of a foot higher than it was on May 1st. Mono Lake is projected to drop a tenth of a foot this month, but it is now looking like it will remain steady, and it could even have a net rise if the last half of the month is wet.