We've been receiving calls and inquiries about a large earth construction that has been growing on the hill across from Lee Vining over the past two weeks. The questions are pretty simple: what is that, why is it happening–and is it needed? We've been asking questions, and here's what we've found out so far.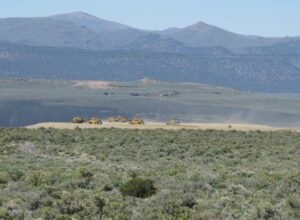 Question number one is easy to answer: the project taking place is the rehabilitation of the Lee Vining airport. Yes, Lee Vining has an airport. We're not surprised if you are surprised by that–it's a rural airstrip used by small planes and offers no services on site. The plan that had been discussed locally was a rehabilitation project: flatten, widen by ten feet, and resurface the runway, plus improve the lighting used when planes are approaching at night.
From Lee Vining the runway is largely hidden from view. Which leads to the second question: why is a large earthworks of approximately 10 acres in size being constructed? It's not part of the actual runway, and it turns out that the area in question is simply being used as a place to put excavated dirt.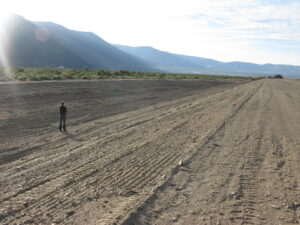 The impacts of the earthworks are drawing increasing attention and concern. They are highly visible and stand out as an artificial construction, not just from town but also the western lake shore, Conway Summit, the Highway 120 first view of Mono Lake, and the Forest Service Visitor Center.  They have covered a substantial amount of habitat. And the revegetation plan for the site does not appear to assure that successful plant establishment and ground coverage will be achieved.
Many residents are just surprised about the scale of the project, given the rules and regulations that apply to private landowners throughout the county.
The Mono Lake Committee is actively seeking more information on the background of the project. While the runway work was discussed and anticipated locally, the earthworks were not and we're asking how it was designed and approved, and what consideration was made for the scenic views that draw visitors here by the hundreds of thousands.
Given that work is already in progress, the key question is really this: what can be done to reduce the impacts? The Committee is hopeful that solutions can be quickly found to reduce visual impacts, mitigate habitat loss, and assure successful revegetation of the site. More information will be coming soon.