Last winter, wild horse activity sharply increased at and around South Tufa, with upward of 100 horses regularly seen on the trail to Mono Lake, near Navy Beach, and at the freshwater spring along the shoreline.
Wild horses used to be a rare sighting in the Mono Basin—spotted only in remote areas far from Mono Lake and in small numbers. A recent surge in horse numbers and activity at the lake and close to major highways has generated concern for management agencies in charge of visitor safety, resource protection, and the horses themselves.
The horses have moved far beyond their designated territory, which is located approximately 30 miles away near Montgomery Pass and the Nevada state line. The sustainable size of the herd is 138–230 horses. In November 2020, the Inyo National Forest conducted a single-day aerial survey and counted 642 horses in the herd, 498 of which were outside of the herd's home territory. In August 2021 more than 440 horses were counted along Mono Lake's shore.
The Inyo National Forest is the lead agency for the horses in the Mono Basin and is working on plans that prioritize both managing the horses and protecting the resources at Mono Lake. Informational meetings have been useful for sharing observations and ideas from California State Parks, the Lahontan Regional Water Quality Control Board, the Great Basin Unifi ed Air Pollution Control District, the Bureau of Land Management, local residents, the Mono Lake Committee, and others.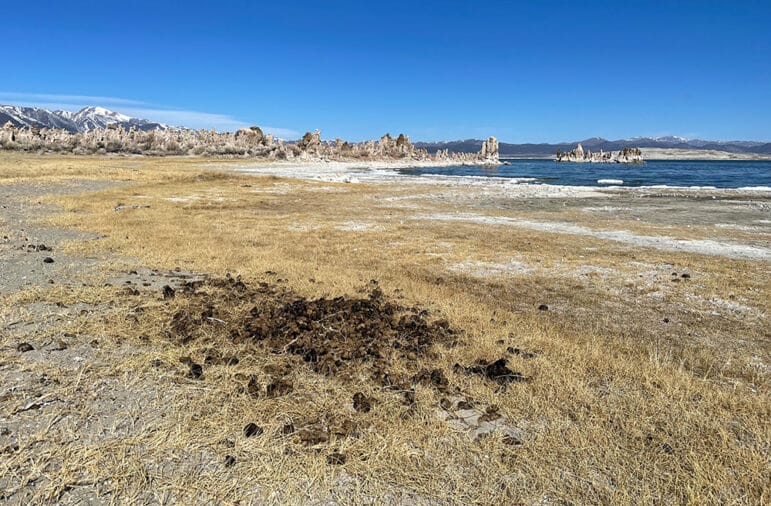 The Committee is recording impacts to resources and horse activity around Mono Lake and sharing that information with the Inyo and other management agencies. Horses have significantly impacted springs, wetland habitat, and tufa on the south shore, and left considerable manure piles on South Tufa trails and in parking areas. The horses also temporarily extended their range into the lower Rush Creek drainage but departed the area by early March.
Volunteers and Committee staff have been removing horse manure from the trails at South Tufa and Navy Beach to help keep those popular Mono Lake visitation areas accessible and enjoyable.
While beautiful, the horses are wild animals and are federally protected; people should never approach them or attempt to touch or feed them.
Documentation of impacts to springs, wetlands, and tufa continues—if you have a resource damage sighting, please contact Project Specialist Ryan Garrett by email or at (760) 647-6595.
This post was also published as an article in the Summer 2022 Mono Lake Newsletter. Top photo by Andrew Youssef: A February 2022 view of the shoreline freshwater spring near South Tufa, degraded by several months of horse activity.