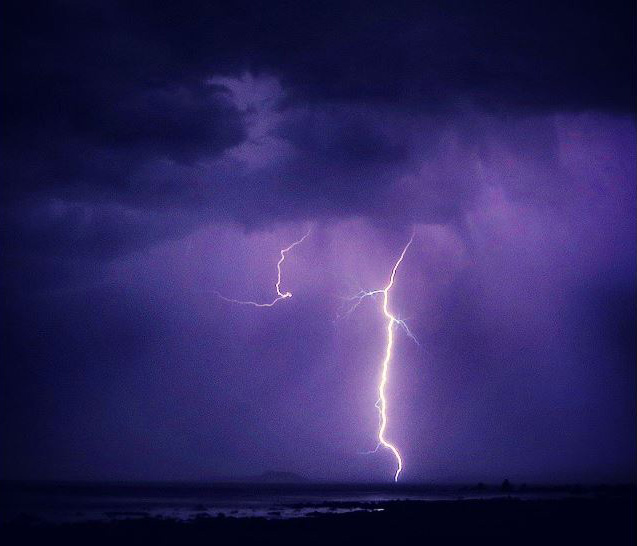 The Mono Basin is a land of extremes, and this year's weather is no exception. Temperatures since January are the warmest on record. October–March precipitation in Lee Vining was the lowest on record. April–September precipitation, on the other hand, already is the highest on record—and we are only halfway through that time period! This water year (October 1, 2014–September 30, 2015) is the first time Apr–Sept precipitation has exceeded Oct–Mar. This reversal of the warm and cold season Mediterranean precipitation patterns has allowed invasive plants like cheatgrass to spread impressively this spring.
At Cain Ranch, five miles south of Lee Vining and farther from the Sierra front, where it is influenced less by winter precipitation, Apr–Sept precipitation has exceeded that of Oct–Mar only four times: 1976, 1977, 1989, and 2015. This year, 4.03″ of May–June precipitation beat the old record of 3.57″ set in 1977. 1977 was the driest year on record.
There was so little snow remaining in April, that the runoff forecast for this summer was just half of what was measured in 1977. The spring snows and summer rains are increasing the runoff above what was expected, and that, plus direct precipitation on the lake, has helped to keep Mono Lake's level steady—it has fluctuated less than 0.3 feet since October, and is now the same level it was in April and half a foot higher than DWP's forecast. This is very good news, but even if runoff is almost double expectations, 2015 would still remain the driest year on record for runoff. That is how amazingly dry it has been.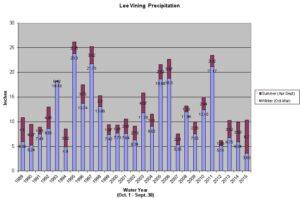 Localized thunderstorms on most days this week kept the rains coming. On June 30th, but recorded on July 1st, 1.18 inches of rain fell in about 20 minutes in Lee Vining, making this the fifth-wettest July on record—before July officially began. Every little bit helps to ameliorate the impacts of record drought.