Yesterday morning, the west half of Mono Lake was blanketed in fog, clouds, and snow. Yes, snow—lake-effect snow! In Lee Vining we measured three inches of new snow (and 1–2 inches new were reported in Mono City), adding to the three inches measured Wednesday morning, for a total of six inches on the ground!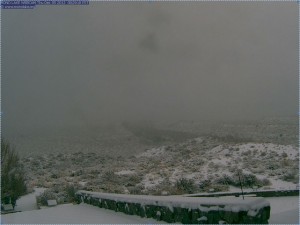 According to Mammoth Lakes weather man Howard Sheckter, the Mono Basin was the only place in California that reported snow Wednesday night. Below are a few webcam shots from around Mono County documenting the phenomenon, as well as some graphs from our weather station in Lee Vining.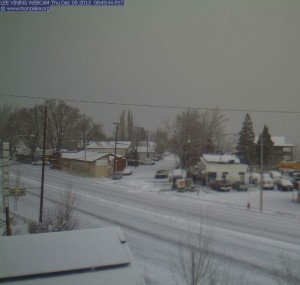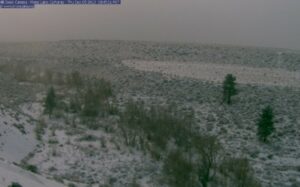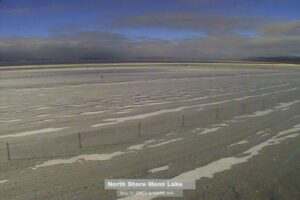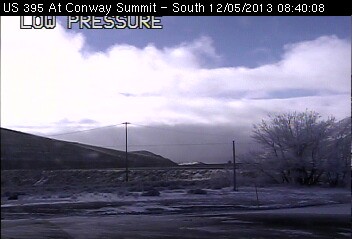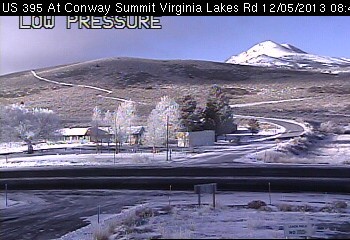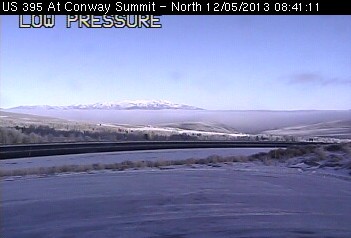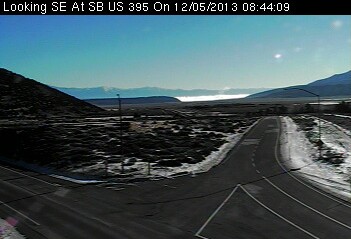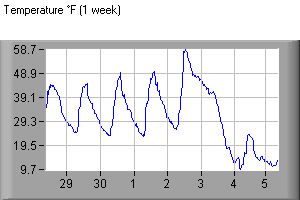 From Thursday morning's National Weather Service Reno discussion:
AREA FORECAST DISCUSSION...UPDATED
 NATIONAL WEATHER SERVICE RENO NV
 823 AM PST THU DEC 5 2013

 .UPDATE...

 UPDATED THIS MORNING TO ADD LAKE EFFECT SNOW AROUND MONO LAKE FOR
 TODAY. COLD AIR OVER THE REGION IS PICKING UP THE MOISTURE OVER
 THE RELATIVELY WARM LAKE AND CREATING SNOW ALONG HIGHWAY 395
 AROUND LEE VINING. THEY HAVE ALREADY RECEIVED AROUND ONE INCH OF
 SNOW THERE THIS MORNING AND COULD GET UP TO A COUPLE INCHES OR SO
 TOTAL. ALSO, WE`VE ADD IN AREAS OF FREEZING FOG TO MONO COUNTY AS
 WELL, ESPECIALLY AROUND CROWLEY LAKE.
Links: