Mono Basin March 1st snow surveys aren't all in yet, but so far surveys in the Lee Vining Creek drainage have been completed. In percent of the April 1st average snow water content, Tioga Pass was 105%, Saddlebag Lake was 110%, and Ellery Lake was 128%. This averages 114% for April 1st and 134% for March 1st. Statewide, so far the totals are 109% for April 1st and 124% for March 1st, and ranging from 66% for the Scott River to 225% for the Tule River (March 1). The basins adjacent to Mono are all at similar percentages of average, with the Stanislaus and the Tuolumne matching the Mono Basin's 134%. The final results should be in within a week, and by mid-March the Los Angeles Department of Water & Power should have a preliminary runoff forecast update to the February runoff forecast of 111%.
Lee Vining snowfall in February was 150% of average with about average water content, indicating colder-than-usual storms with lighter snow. Cain Ranch, more representative of precipitation on Mono Lake's surface, only had 46% of average precipitation, indicating the storms had difficulty getting past the Sierra Nevada and into the Mono Basin. Mono Lake rose last month about a tenth of a foot—only 50% of the average February rise.
So far for the water year (October 1–September 30), Lee Vining precipitation has been 124% of average and Cain Ranch has been 78%, both exceeding last year's totals of 108% and 74%, respectively–with seven months still left in the water year!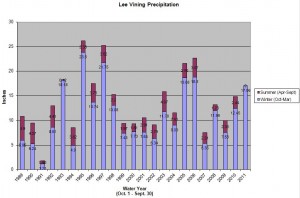 You can download February's Lee Vining weather log, however be aware that the tipping bucket heated rain gauge total shown here and on our live weather page were about 20% lower than the official NOAA weather station total for February.