Last week the Los Angeles Department of Water & Power (DWP) released its preliminary runoff forecast based on record-breaking March 1st snow surveys: 195% of average runoff for the April 1, 2017 through March 31, 2018 runoff year. This volume of runoff is very similar to 1983, the wettest runoff year on record. Due to the warm storms in January and February, the lower-elevation snowpack below about 9,000 feet above sea level is much lower than in 1983, so we are assuming that record runoff is a high-end scenario. That forecast also assumes median precipitation over the next year.
Based on 1983 as a high end, 1995 as a probable scenario, and 2006 as a lowest possible scenario, we modeled the likely rise in Mono Lake based on those past year inflows and probable reservoir operations this year. The result? A 3.8-foot rise in Mono Lake is likely over the next year. Expected Grant Lake Reservoir operations add about half a foot to our forecast.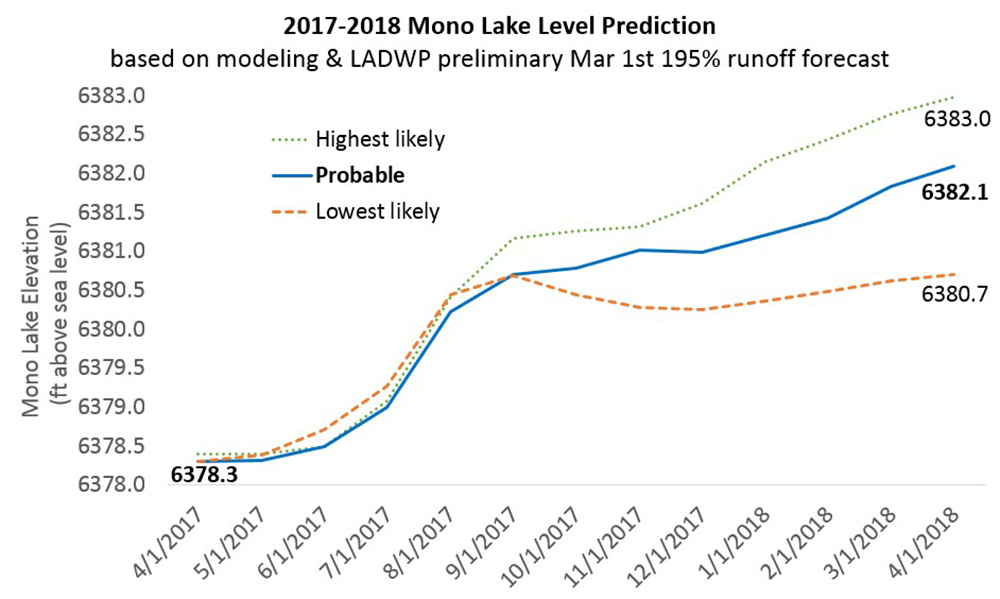 All three scenarios have little or no rise before May and a similar rise in May and June, since snow can only melt so fast, and Grant Lake Reservoir isn't likely to spill prior to mid-June. Larger snowpacks tend to melt more slowly and vice versa, therefore the lowest annual rise has the fastest spring rise. The three scenarios diverge by September, with a likely rise between 2.4 and 2.8 feet by then. This would be at least a 3-foot increase over last September! This rapid influx of fresh water will almost certainly prevent Mono Lake from mixing this fall and will lower the biological productivity of the lake during the next few years. This may return the lake's summer clarity to historic levels—the lake failed to clear during the last three summers.
You can see the current level of Mono Lake here, and download a PDF of our Mono Lake level forecast here. We will continue to update this forecast as new information becomes available each month. The April forecast is usually quite good, but April can be wet so the final runoff forecast isn't released until May, when DWP will also issue a lake level forecast.
June can also be wet. Last year NASA's Airborne Snow Observatory (ASO) Program sent us snowpack data within two days of their aerial surveys as the snowpack melted in June. Already this week we received snowpack data for Lee Vining Creek from ASO, and it confirms that the snowpack drops off significantly below 9,000 feet.
This potential four-foot rise in Mono Lake is very exciting, and would return Mono Lake to where it was during the first year of the five-year drought!