We were expecting the worst for streamflows this summer. Runoff at 48% of average this year—as forecasted in April, and even lower than the last two dry years—would make 2014 the driest year of the last three, adding up to the three driest consecutive years on record for runoff in the Mono Basin.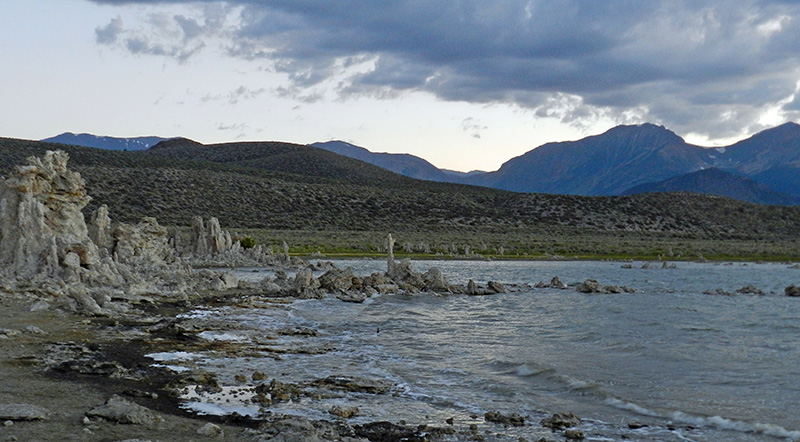 But then the summer thunderstorms came, dropping an inch and a half of rain. The late July and early August rains extended the late July streamflows into mid-August, buying about 3–4 weeks of extra time at or above the late July flows. For most creeks, this means that the late July and early August flows this year ended up actually higher than last year. Click on the graphs below to enlarge.
Walker Creek
The most dramatic impact has been on Walker Creek. Last year it got down to 1 cfs on August 8, and remained near 1–2 cfs the rest of the year. With even drier conditions forecasted this year, I expected it could dry up before reaching Highway 395. But this year, thanks to the rain, as of August 21, it has remained at or above 3 cfs.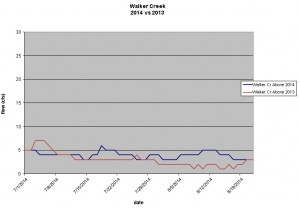 Lee Vining Creek
Lee Vining Creek declined to 26 cfs before the rain, at about the same rate as last year, and now following the rain is back down to that flow rate. That is about two weeks at or above that flow than would have occurred without the rain.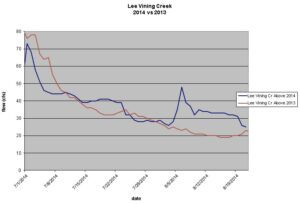 Parker Creek
Parker Creek declined to 7 cfs about a week later than last year, although late August thunderstorms gave it a bump in flow in 2013. Overall the summer 2013 and 2014 flows, outside of the rain events, were similar.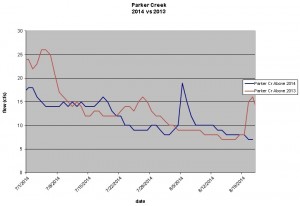 Rush Creek
Rush Creek between Silver Lake and Grant Lake Reservoir reached 12 cfs before the rain, and just declined to that flow again last week, buying it an extra three weeks at that level. But this is a very low summer flow, notwithstanding an unusual 7 cfs minimum in July 2012. It is less than half the flow at the same times last year, and currently it is running at only 10 cfs, or only 1/3 of the flow last year on this date. The last time Rush Creek reached 10 cfs in August was in 2007. Rush Creek reached 11 cfs in August 2001, but otherwise has not been this low in August in at least three decades. Rush Creek's flow below Grant Lake Dam is much higher (at least 31 cfs) due to the State Water Board's minimum required flows in Decision 1631.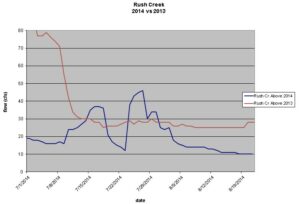 These flows are all measured above the Los Angeles Aqueduct, and Rush Creek and Lee Vining Creek are controlled by upstream reservoirs. However, the reservoir levels tend to stay steady in summer, meaning that these flows are likely fairly close to the unimpaired flow that would occur if there were no dams.
The thunderstorms gave the creeks a midsummer reprieve from even drier conditions during this extremely dry year, but there is no rain in the forecast for the rest of August. And late summer and fall are often the driest times of year in the Mono Basin.
As for Mono Lake, it got a reprieve due to the thunderstorms too. Last year it dropped 0.7 feet in July and August. This year, with a week and a half to go in August, it has only dropped 0.33 feet, to 6379.78 feet above sea level as of August 20. Things are bad during this drought—but without the 2014 summer thunderstorms, they would be worse.