Since the first week in May, cold and windy weather has been replaced by warm and calmer weather. This sudden change caused trees to leaf out, flowers to bloom, bugs and birds to come out, and snowmelt to dramatically increase. Sonora Pass opened last week and Tioga Pass opened yesterday. The last two weeks have been a burst of springtime activity!
WEATHER
Highs are in the 70-80s and lows are in the 40-50s. It has been breezy in the afternoon, especially near thunderstorms. Scattered thundershowers are likely again by early next week. Lightning started a handful of small fires in Yosemite National Park. Visit our weather page for current conditions and links to forecasts and radar images.
BUGS
No-see-ums are out in force on calm, warm mornings and evenings. Fortunately you can plan your times to be out in brushy areas for windy afternoons. The Pacific Tent Moth Caterpillar is creating multitudes of web tents in bitterbrush and other shrubs. This big a hatch occurs only every several years.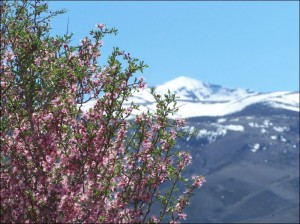 PLANTS & FLOWERS
Peak bloom is happening! Bitterbrush is at peak. Along the Lee Vining Creek Trail blooming flowers include lupine, paintbrush, larkspur, rayless daisy, arrowleaf balsamroot, mules ear, wallflower, monkeyflower, and death camas. Aside from individual bushes, desert peach didn't have a very showy bloom this year—blossoms blew off while buds hadn't opened yet on the same bush—and there was nothing even close to last year's once-in-a-decade extravaganza that turned large areas of the Mono Basin pink.
Most trees have fully leafed out, except willows are still working on it. At higher elevations (around the June Lake Loop) many quaking aspens are still just starting to leaf out.
BIRDS
An explosion of spring birds has occurred this month! A flock of 25 Cedar Waxwings were recently spotted on the Lee Vining Creek Trail, along with plenty of Green-tailed Towhees, Brewer's Sparrows, and Wood Peewees. You can also see Spotted Sandpipers, Killdeer, Kestrels, American Dippers, and more. At Mono Lake there are of course plenty of California Gulls and Osprey. Visit Mono Lake County Park at 8:00 am on a Friday or Sunday morning and you can join the bird walks—participants on this past Sunday's walk spotted 25 species! South Tufa walks at 1:00 pm on weekends are also a good place to see birds at Mono Lake. See or post bird sightings on our Mono Basin & Nearby Eastern Sierra Bird and Other Wildlife Sightings page!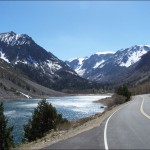 RUNOFF
Spring runoff is happening! The warm weather is melting the high elevation snow rapidly and the creeks are high. Grant Lake Reservoir is rising fast, and so is Lundy Lake Reservoir. Mono Lake will be rising for a couple of weeks until it begins falling most of the summer and fall.
HIGH COUNTRY
There is snow above 9-10,000 feet. It is melting rapidly, but plenty of snow will be around for a while. Lakes are frozen. Streams are high. Campgrounds are closed and trails are snow-covered. See the Tioga Pass WebCam here.
ROADS AND SERVICES
Tioga Pass opened on May 19th, but there are no services available along the road except gas with a credit card. The Saddlebag Lake Road is closed. The Old Marina Site at Mono Lake is closed for construction until June. All other major roads are open as well as most businesses and resorts. The Mono Lake Committee Information Center & Bookstore is usually open 9:00-5:00 daily but on Friday-Sunday of Memorial Day Weekend it will be open 8:00 am – 6:00 pm. Plan your visit to Mono Lake here.